Apple Painting with Kids
September 17, 2019
It's September and officially apple season. I love getting fresh fruit when in season. It's easier to get the kids excited about eating it when it is in abundance and you can pick it yourselves. Of course, we will be eating plenty of raw apples and cooking up lots of apple creations like apple sauce and apple pie. Yummy!!! Did you know that you can paint with apples? When they are cut in half they can be used as a stamp. Your kids can paint and do all kinds of learning through play with this easy apple stamp painting.
Here is what you will need:
Apples (1 will work if you only do 2 colors like me.)
Red, green and brown paint (Don't let me squash your artistic flair if you want pink. I was just keeping things realistic.)
Knife and Cutting Board
Lots of paper or cardboard to paint on!
Here is how-to Apple Paint:
Cut the apple in half, vertically, from stem to bottom (be sure to try for as straight a cut as possible so the stamp will lay flat).
Take half of the apple and lay the flat side into your choice of paint.
Stamp onto some paper for an apple-shaped stamp.
It's as easy as that!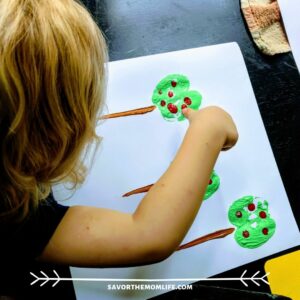 Ideas for how to get some PreK learning in:
Practice counting the apples as you stamp and paint the number with your fingers.
Use the green to stamp some apples into a tree shape. Then use a finger to dot some red apples on the tree! Count the apples and write the number.
Both of these can be upgraded to have kids create word problems or addition and subtraction problems.
Alphabet practice can be done when you talk about "Aa" is for apple and have them finger paint the letter under the apple stamps they painted.
You can also use the apples to stamp out the letters.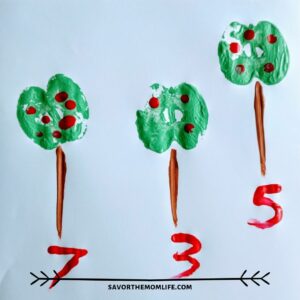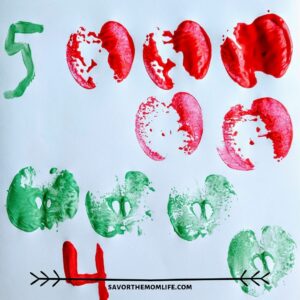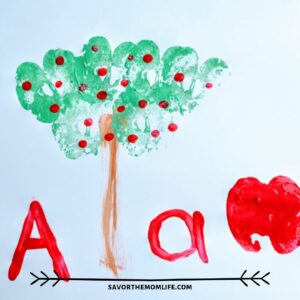 It's always fun to get the kids learning and creating with nature and seasonal items. Please like and share! I would also love to hear some ways you and your children have gotten crafty with apples!
You May Also Like
January 10, 2019
December 8, 2020
February 27, 2021