Learning Activities for Thanksgiving- Busy Box
September 11, 2020
Thanksgiving is my husband's favorite holiday. He loves the food, family, and fun. Bonus he always cooks the turkey!! I love how a thankful mindset is the focus of the day. We try to make thankfulness a habit all year round in my home. Check out my November Family Thankful Challenge to learn more about making thankfulness a habit for your family. Also, check out 7 Thanksgiving Day Traditions to Share with Your Kids. These Fun Independent Learning Activities for the Thanksgiving Holiday will be fun for your preschooler while celebrating the harvest, family, and being thankful every day!
I have been, or can be if you click on a link and make a purchase, compensated via a cash payment, gift, or something else of value for writing this post. Regardless, I only recommend products or services I use personally and believe will be good for my readers. Please read my full disclosure for more information.
Pre-Reading Thanksgiving Busy Box Activities
Print Awareness and Print Motivation
Learning is so much easier when you are interested in something, am I right? The goal here is to get your kiddos interested in books and words! The easiest way to get them interested is by having books available and modeling how to read! All of these things can foster independent learning to read spirit in your kiddo!
Read with your kids.
Point to words and pictures.
Read around your kids.
Look at books together.
Point to words and pictures.
Choose books based on interest.
Fictional Thanksgiving Books
Non Fiction Thanksgiving Books
Phonemic Awareness
Once you have kindled that reading excitement in your child the next step is learning the sounds the letters make and how to put them together to make words. This will take some attention and practice before your student can independently practice these skills. When the letter sounds have been learned, then you can practice putting the sounds together to make words.
Alphabet flashcards are a great way to practice letters and letter sounds. Print, Cut out, and Laminate!
A Thanksgiving-themed CVC Mat can be used to build words. Use the turkey flashcards to build words.
The Word and Letter Wands can be used to find words in books.
Pre Writing Thanksgiving Busy Box Activities
Fine Motor
When kids are very young writing is not so important but we parents want our children to eventually become writers. In the preschool years, it is all about building up those small muscle groups in their hands! There is a lot of play involved here. Skills like tracing, coloring, and cutting can follow but these skills involve a lot more modeling and teaching before they attempt them independently.
Puzzles and Manipulative
Play Dough and Slime
Beads, Stickers, and Stamps
Color, Cut, and Trace
Pre Math Thanksgiving Busy Box Activities
Number Sets and Counting
Number sets are groups of objects. You can use any fun harvest or Thanksgiving-themed objects to count and group. Practice these ideas below with your kiddo and they should be able to have some fun doing it independently after you model.
Match the groups to the number or number words.
Order the groups smallest to largest or largest to smallest.
Count the objects in each group with one-to-one correspondence. (Say the number while pointing to a new object for each number).
Sorting and Matching
These are skills that will be used often and forever. Grab some manipulatives (little toys), stamps, beads, and stickers, and get playing.
Match 2 sets using one-to-one.
Sort by shape, color, size, type, etc.
Shapes and Patterns
The study of shapes is geometry! Learning shapes and names is a preschool skill. Practice with some building blocks. Build a pretend thanksgiving feast or a turkey cage, and get your kids to practice using the names of the shapes.
Patterns are so very fun and easy to practice. Stamps, stickers, beads, play-dough cut-outs, etc. Make patterns with shapes and colors to practice this skill!
Need to learn some more ideas and tips to get your kiddos playing with these busy boxes independently? Check out 3 Magic Ingredients for Successful Independent Playtime. If you enjoyed these busy box activities please check my other busy boxes and Subscribe to get access to the Busy Box Printable Library with 30+ Freebies!!!
If you are not interested in subscribing, many of the printables are available in my Teacher Pay Teacher Store!
You May Also Like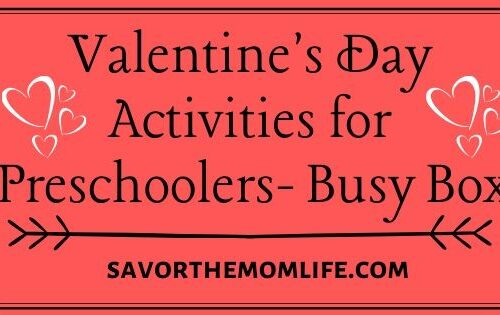 January 10, 2020