Reading and Writing Learning Style for Kids- Everything You Need to Know
December 3, 2020
Reading/ Writing is the most common, most thought of, and most used learning style. This Read/ Write Learning style is one of 4 from Neil Fleming's VARK Learning Style Model. The other 3 learning models are Auditory, Visual, and Kinesthetic. Reading to learn and absorb information while also writing to remember is the strength of the Reading and Writing Learner. Since this is the most common form of teaching it may seem that lots of things come naturally to your Reading and Writing Learner. They will always do well with a book, paper, and pen. If you haven't already taken this Learning Style for Kids quiz to see which learning style your kiddo fits try it out here. Reading and Writing Learning Style for Kids- Everything You Need to Know to help your read/ write learner be the best they can be.
"Books are mirrors, you only see in them what you already have inside of you."- Carlos Ruze Zafron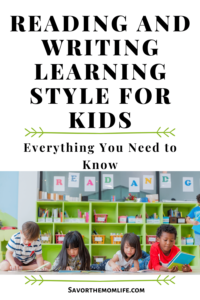 I have been, or can be if you click on a link and make a purchase, compensated via a cash payment, gift, or something else of value for writing this post. Regardless, I only recommend products or services I use personally and believe will be good for my readers. Please read my full disclosure for more information.
What is a Read/ Write Learner?
This learning style is pretty self-explanatory. These learners are all about reading and writing. Kids who learn best this way will retain information by looking at and reading words, sentences, and books. It helps even more when they can write out what they read and hear. Read/ Write Learners absorb information just like their name- reading and writing.
Some of the benefits kids get from being Read/ Write Learners include but are not limited to:
Their learning style matches the standard teaching style.
Supplies are minimal- books, pen, and paper.
They are great note-takers.
Very self-dependent learners since they can learn from just reading and writing.
Some of the Strategies for Read/ Write Learners include but are not limited to:
Encourage them to paraphrase or condense notes as a way to review and reread.
Independent work.
Use highlighters and colorful pens for note-taking and flashcard creation.
Create mnemonic devices.
Make outlines from the text being studied.
Where and When Can You Create Learning Experiences for Your Kids?
Reading to your children no matter their learning style is important but it's how to get your read/ write learner started! Lots of Alphabet books and writing worksheets can help these learners remember the letters. We, adults, are very versed in learning and taking in new information through reading and writing text. It is easy to model this idea to young readers.
Life Skills
Anything with text or writing will help these read/ write learners master life skills. They are not the kind of learners to watch or hear about something that happens and understand it. They need to read about it!
Read their name, phone number, address, or anything you are working to get your learner to memorize. You can create signs or flashcards and place them in different places around the house. A reading scavenger hunt if you will.
After the reading, have the learner copy the information as well.
Write up a daily schedule and read it as you go through the day. Highlight very important parts for easy reading.
Teaching a read/ write learner on how to use a planner is another great life skill tool.
Get a good collection of books about life skills such as; potty training, teeth brushing, or room cleaning, etc.
Writing out steps or directions of a certain task to be reviewed and referenced is also helpful.
Educational Skills
As I have already mentioned the read/ write learning style is the natural way we tend to teach. Almost all college classes are set and created for this learning style. Many of the tools and techniques mentioned below you are sure to be familiar with.
Flashcards
Word Games
Books
Pencils, Pens, Markers
Notebooks and Worksheets
Why does Thinking about Your Childs Learning Style Help with Parenting and Learning?
Understanding how your child learns best makes learning fun and more easy for everyone involved. For these Read/ Write Learners books and note taking are the easiest and most effective ways to learn information. Luckily for these learners, it tends to be the default of teaching in many educational institutions.
The other 3 learning styles are heavily used in early Elementary since usually everyone can not read yet and they are easy to implement, make attention-grabbing, and to do without the use of the written word. As soon as your learner gets that skill there is no limit to the learning. Especially if they are happy with books! Once your read/ write learner hits middle school and beyond some struggles may come with group work or other classes involving learning with hands-on techniques. Just remember to keep a book of how-to on hand and encourage them to write out all the steps.
Read/ Write Learning Style Affirmations
"You are such a strong reader."
"I can tell you really understand what you are reading."
"You take the best notes."
"When you write like that I can see all the information you are learning."
"You are a great independent learner."
"The more you read, the smarter you get."
Reading and Writing Ideas for Busy Boxes and Center Play
Books: Any books that catch your child's interest or fit the theme you are using for learning would be great. I always have seasonal and holiday books to unpack and add to busy boxes.
Flashcards and Lists: Reading and creating flashcards is a great way to exercise that read/ write learning style. In each busy box, I create a set of uppercase and lowercase flashcards.
Word and Letter Wands: They are encouraging tools to practice that reading with purpose. They can use them to highlight special letters and words they are learning.
Written Instructions: They like to read to understand. Use text to give instructions on how to use the busy box or center.
Writing and Copying Tools: Things they can use to write down letters, words, and numbers as they are learning. Notebooks, whiteboards, writing tools, worksheets, and workbooks.
Reading and Writing Learning Style for Kids is here to give you tips, tricks, and resources for parenting and teaching your kiddo with this style.
You May Also Like
August 13, 2020
October 29, 2019
February 14, 2020