St.Patrick's Day Busy Box for Preschoolers
March 11, 2020
St.Patrick's Day is when the Countries with people of Irish descent celebrate Irish Culture! For the little kiddos, you can keep it simple with shamrocks, clovers, rainbows, pots of gold and leprechauns. I have gathered lots of St. Patrick's Day Busy Box Activities for Preschoolers. You can share with your preschooler to get them learning and playing independently!
I have been, or can be if you click on a link and make a purchase, compensated via a cash payment, gift, or something else of value for writing this post. Regardless, I only recommend products or services I use personally and believe will be good for my readers. Please read my full disclosure for more information.
If you want to learn more about these Preschool skills I chose activities to match, read this post, Preschool Educational Skills By Age 2-5.
Pre-Reading Busy Box Activities
Print Motivation and Awareness
St. Patrick's Day is not as widely celebrated as a holiday as our other holiday-themed busy boxes. There are still loads of books out there to share with your kids. Click them below for Amazon links or go grab them at the library!
Read them with your kids at bedtime and then put them into the busy box. You might find them looking through and retelling the stories in their own words.
Letter Knowledge
You can also use those books above to search for letters and words they are practicing. Here are two different word/letter wands to print and use in with the St. Patrick's Day busy box. Kiddos can use the letter coins to match the letters they find as they are reading books.
I created an alphabet flashcard set of coins! Bigger coins with Uppercase letters and Smaller Coins with lowercase letters. Kiddos can match the letters, build words, a pretend leprechaun can hide them around a room and the can use one of the wands to find the coin letters!
Phonemic Awareness
Find toys to "buy" with the coins but they have to begin with the letter that matches the coin they are using.
Pre-Writing Busy Box Activities
Fine Motor
Puzzles are always first in this category. They are great for getting kids using those small muscle groups in their fingers. I love how simple, fun, and creative this rainbow puzzle is!
Playdough is another great way to get those hand muscles working. Here is some fun rainbow color play dough you can get on Amazon. Teach your kid how to roll the dough into color snakes and stack them into a rainbow shape! Also, you can get plastic gold coins from the Dollar tree and hide them in the playdough!
These beads are another fun way to work on fine motor. Have your kids create rainbow necklaces and bracelets.
If you really want your kiddo to start practicing the actual steps of writing check out this awesome rainbow with color words to trace! I have a blank one included as well so they can copy the words on their own on writing their name on the Rainbow! You could even rainbow write sight words!
Pre Math Busy Box Activities
Sorting, Patterns, Creating Sets, and More Fine Motor
There are many different little charms at Dollar Tree with St. Patrick's theme. Shamrocks, Clovers, Coins, and Pots (of gold) are the ones I found this year. There are so many different ways your child can practice the above skills with these. Some of these skills you will have to model and some they will even do on their own if you just let them go at it.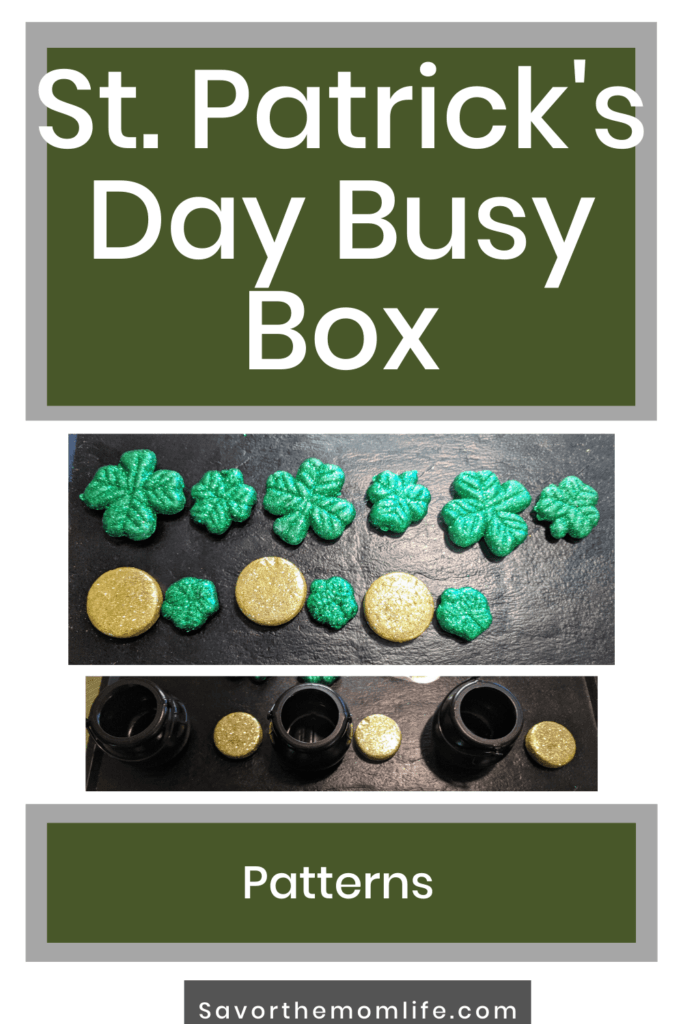 Counting
All those charms above can be used to practice counting as well. Counting and filling the pots, counting, and sorting, counting the colors in the rainbow, etc. I also have created a printable set of leprechaun footprints. Make a game where your kiddo counts the prints and follows them to a pot of gold!
Many of the ideas in this Busy Box post need to be modeled first. Trust me after 30 minutes of Filling their Attention Cup with some of these activities they should be able to continue on their own. My kiddos even came up with some of their own games using all the pieces mentioned here.
Don't forget to SUBSCRIBE HERE to get Access to my Busy Box Library. It has the printables in this post plus all the other Busy Box post printables!! Lots of Freebies!
You May Also Like
November 8, 2018
February 8, 2019