St. Patrick's Day Kid Activities
March 10, 2019
Hello! One of my favorite spring holidays is coming up soon. St. Patrick's Day. Originally this was a Catholic religious holiday. St. Patrick is the patron Saint and apostle of Ireland. On this modern-day at my house, we use as a day to celebrate our Irish heritage. I love celebrating holidays with my kiddos. No matter how small, creating memories and traditions with them is fun. So here are 5 fun St. Patrick's Day Kid Activities for you to enjoy with your kiddos.
St. Patrick's Day Kid Books
I talk a lot about children's books here on my site. Reading is very important for kids and we do a lot of it in our house. I love reading themed books with my kids because it's an easy way to explain events and other things happening in their lives. Here are 5 of our favorite St. Patrick's Day-themed illustrated books. I always try to include fiction and no fiction when choosing what to read with my kiddos.
St. Patrick's Day Crafts
Painting a Rainbow. I love doing hand and footprints with my very little kiddos. It's a fun way to create memories and very easy to fit in almost any theme you can think of. My favorite handprint painting for St. Patrick's Day kid's Activities is making a rainbow. 6 colors- red, orange, yellow, green, blue, and purple. 6 hand prints. I print them in an arch and have it ends at a black pot of gold I cut out with construction paper. They can even do fingerprints to make the gold coins flow out of the pot. It is so cute. Just make sure you have lots of wipes around to clean their hands when changing through the colors.
I also have created a shamrock cut out and printed feet on hands on each of the leaves with a cute "Happy St. Patrick's Day" or "Hope your day is Lucky" written around the outside edge.
Another year I drew a leprechaun hat and beard cut out for the kids to wear like a mask and play pretend for pictures. They loved it!
Lucky Charm Sorting Game
My kids love Lucky Charms. Any excuse they have to eat them and they will. I created a cute game for them to practice sorting, counting, and even adding or subtracting with the cereal. All that is needed is a column chart. The kiddos get a pile of lucky charms and sort them according to color and shape. I even pick out just the marshmallow ones for them to use. After sorting them they can count and write how many of each they have. I am going to get my son to create some addition and subtraction problems with his. After all the sorting, counting, and math fat practice they are allowed to eat them of course!
Shamrock Scavenger Hunt
This game is so much fun. I give the kids little riddles about places around the house. A leprechaun has lost his shamrocks in our house! If they help him find them he will give them a pot of gold! Here is the list of clues- I picked places that should translate to most any house. I only have two kiddos, so I made it so they each get three clues and three shamrocks.
Where do we keep ice and can get a treat that is nice? (Freezer)
Where do you go to get a scrub and wash in the tub? (Bathroom)
Where do you go and sit when you want to watch TV for a bit? (Sofa)
Where after dinner do we wash the dishes like a winner? (Sink)
Where visitors knock and we have a lock? (Front Door)
Where do you go to dream and you are the most tired it seems? (Bed)
After finding all the shamrocks they bring them to a photo of a leprechaun and I get his hidden pot of gold for them! Usually some real coins and chocolate ones. I put our fun green necklaces and hats in there as well.
I have included links to a printable version of the clues (Click on the image below), a coloring page to the leprechaun, and some printable shamrocks for the hunt.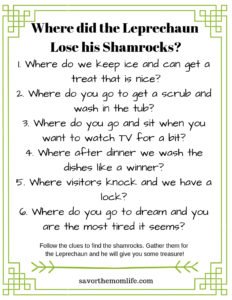 Clover Cookies
I have this very cute clover cookie cutter I like to use for this special day. Here are some links to a super easy roll-out sugar cookie recipe or a rice crispy treat recipe that you could use a cookie cutter like this one with!
St. Patrick's Day Kid Activities
There are many other cool games and activities you could do with your kiddos on this fun day. These are just my favorite to do with my family. If you have a new one for us to try out please share it with me in the comments!!! I am always interested to learn new St. Patrick's Day Kid Activities.
If you enjoyed reading this please check out some of my other holiday-themed posts below!
You May Also Like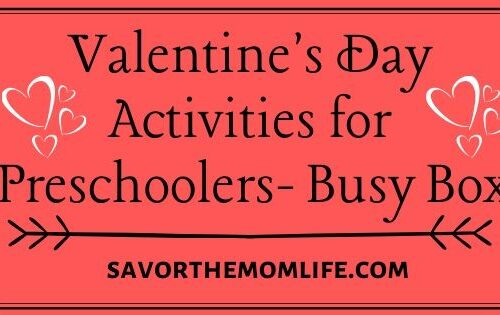 January 10, 2020
January 29, 2019
February 4, 2019