3 Magic Ingredients for Successful Independent Playtime
June 11, 2020
Parents, I know you love your children and want to spend time with them, teaching, playing, and helping them grow. We cannot fill their every waking hour with our attention! This would be impossible and not healthy. Kids need to have independent playtime to help build their confidence and learn that they can try things on their own. If you want to read more about the benefits of independent playtime check out a fellow blogger who wrote about it –Here! Keep reading for the 3 Magic Ingredients for Successful Independent Playtime. This formula is no guarantee and will take some work from parents but if you get these three things down it will give you a great start!
The 3 Magic Ingredients are:
1. Attention from Parent or Grown-Up.
2. Schedule and Routine.
3. Training, Practice, or Teaching How to!
#1 Attention
Who is familiar with that sensation you get when someone brushes or plays gently with your hair? Or does something really nice for you? You get all tingly and warm feeling from your heart all the way out to your toes! I'll never forget one day when I was playing playdough with my daughter. I was really getting into it and creating some weird pizza man-creature. She was loving it so much she said, "It feels like when you brush my hair." I knew exactly what she meant. Everyone loves that happy feeling. My daughter had it that day when I was giving her my whole attention. I was truly and fully playing and engaging with her on all levels.
It feels great when you know your kiddo is feeling good and it's all because of you! I know it is hard to give them that serious carefree attention these days. Work, Pandemic, Stress filled Struggles, and National Unrest are just a few things distracting us parents from being our best.
I did write an entire post dedicated to Filling Your Kids Attention Cup. It is that important! But seriously, when you give good regular and scheduled (read more about that one later) attention they will have that full happy feeling. It really makes entering into independent play easier. Some kids will need more attention than others but this is truly an ingredient that cannot be skipped!
#2 Schedule and Routine
Kids need a schedule. A good schedule and routine can do so much for them. They will feel more confident and safe knowing what to expect and how to proceed to the next moment. The repetition and predictability of a schedule can help foster learning and understanding. And the most important part of this is, Schedule and Routine make children capable of more independence! Independence is the goal here. If you want more information on HOW to Create a Schedule for Stay at Home Mom's read here!
Since I teach for VIPKid (learn more about that here) my kids need to be able to get a few things for themselves in the morning. They sometimes wake before I am done teaching and my daughter is one of those- needs to eat right away types. We have a routine now where I set up her breakfast cereal, bowl, and spoon on the table and her milk in a cup in the fridge. She can't pour a whole gallon on her own yet, but she can get herself fed with our set up and is usually happy when I finish my classes.
If you have a schedule that is almost always followed in your home- you have to have a block of undivided parent attention, followed by that desired independent play. This means time to fill the attention cup and also teach or model what you expect them to do on their own. This brings me to our last ingredient…
#3 Teach It/ Model It
Kids- they don't know things. It's our job to teach them! We don't just give them a fork and knife when they eat steak for the first time. We cut it for them first. Then we let them try with our guidance, and finally, after some practice they try it out on their own. We have to model, teach, and guide them through everything. Potty training, dressing, reading, etc. All these things have to be taught. The same goes for that independent playtime.
Some things to consider when teaching kids to play independently:
Adjust your expectations.
Start small and work your way up. This goes for the amount of time they are on their own, the amount of space they can play in, and the number of activities available. Examples:
Toy Cars- In a Square taped to the carpet- 5 Minutes
2-3 Puzzles- Ont the Sofa- 5 Minutes
Two coloring pages- At the Table- 10 Minutes
Legos- In the Living Room- 15 Minutes
Water Table Play- On the Back Porch- 15 Minutes
Remember keep it small first and work your way to more.
Give boundaries kids understand and can physically see!
Tape off or visually show where they can play and have a timer to help them know when the time will be over and they can come back to you! Make where they have independent play a routine so they know where they are expected to be and for how long. Routines become habits!
Incentives (Better Known as Bribery!)
Making sure there is a snack and drink during the time can be helpful. It can be even more motivating if it's a snack only allowed during independent playtime. Other incentives like toys and stickers can be fun motivators also. The ultimate motivator is that positive attention from mom! They play on their own for a time and then get you as a reward- How awesome! One of the best ways to do this it to really let them pick what, how, and where you will play together.
Teach Them
If you have a kid who has never done a puzzle before and you give them a puzzle and expect them to play independently with it for 5 minutes it will not work out in your favor. You have to show them how to play with it. All my Busy Boxes have activities that can be used independently but they have to be taught first. You have to use that attention filling time to show them how to play! How to use the toys and tools with you. When kids are young this is especially important. You don't have to show them right before the independent time- you can spread it out. For example- Monday do puzzles together and then Wednesday those puzzles are apart of independent time!
BUSY BOXES!
If you enjoyed 3 Magic Ingredients for Successful Independent Playtime Please check out my Busy Boxes! I Create these with all the Preschool Educational Skills in Mind. There are ideas, printables, books, and toys in each themed Post. If you subscribe I will send you 2 emails a month with new activity ideas. You can use them for Attention Filling ideas and Independent Pay! There are always at least 3 Printables in each Busy Box Post. If you subscribe you get access to the library of printables with 20+ Learning Games and Activities for your growing Preschooler.
Following and Liking Savor the Mom Life on Facebook will also give you access to my #FreebieFriday Printables and Busy Box Shares!
You May Also Like
March 14, 2019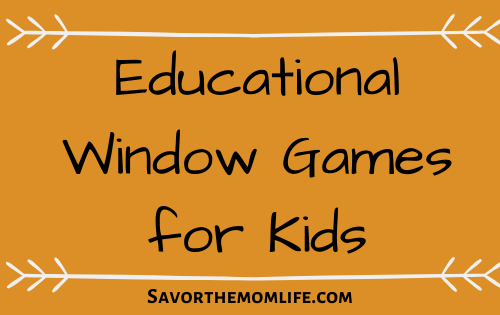 March 31, 2020
November 24, 2020