Stay at Home Mom's Schedule
June 11, 2020
When adults are in the work world there is usually someone there giving the direction or making the schedule. When we get home its a time-out from all of that. But what if you are home all the time. You are taking care of kids, taking care of kids and working, taking care of kids, working, and doing EVERYTHING else? How does that balance feel? Who is the one making the schedule and keeping things moving forward? Do you need a Stay at Home Mom's Schedule?
When I don't have a routine- not much gets done. Without a routine, being at home is not fulfilling. It can grow boring and depressing. Do you follow a routine or schedule like you would if you were working out of the house? Stay at home moms need routine and schedules to help them be their very best! Keeping kids alive and raising them not to be jerks is a tall order these days it feels. Today you can create your own Stay at Home Mom's Schedule or Routine. It will help you feel good about all the things you accomplish every day- no matter how small!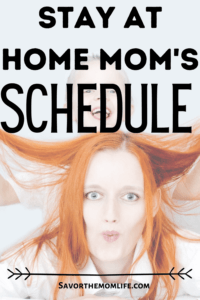 I have been, or can be if you click on a link and make a purchase, compensated via a cash payment, gift, or something else of value for writing this post. Regardless, I only recommend products or services I use personally and believe will be good for my readers. Please read my full disclosure for more information.
Why Should I Make a Schedule?
For Mom:
Helps you be more organized and focused
Makes that work-life balance feel more attainable
Lends to less stress and better rest
Can encourage the formation of healthy habits
For Kids:
Creates a safe feeling
Lends to Confidence
They can do more independently (Creating Independent Play)
The repetition and predictability fosters learning
I know we all love our kiddos but being home with them all the time is a lot of work. Many of my Mom friends want their kids to be able to independently play while they get some other work done. Adding attention time from mom and independent time into a regular routine are the secret formula for teaching your kid to play independently from you. Read here for more about Setting a Schedule for Better Independent Play. Read here for more about Filling Your Kids Attention Cup.
What Should I Put on My Schedule?
Think about all the things you do each day. For your house, for your kids, for your work, and for your self. You probably have an overwhelming amount of junk floating around in your head right now. I want to help you organize the chaos! Take a moment to write down as many of those things you can think of in this handy printable chart I created below.
Here are some ideas you can think about when brainstorming.
Home- Everyday/Weekly Must-Dos (Laundry, Dishes, Meal Planning/ Bathroom Cleaning, Bed Sheet Changing)
Kid- Everyday/Weekly Must-Dos (Teeth Brushing, Play Time, Nap Time/ Play Dates, Park or Library Visits, Extra-Curricular)
Work- Everyday/Weekly Must-Dos (This will depend on your job- My work includes Blog Planning and VIPKid Prep)
Self- Everyday/Weekly Must-Dos (Exercise, Drink Water, Wake Time/ Treat Your Self, See Friends)
Want To- Everyday/Weekly (Homemade Bread, Reading for fun)
Important Times (Wake Time, Bed Time, Nap Time, School Time)
Wow! Look at all that stuff you get done! and all those beautiful goals you want to achieve! You can probably notice a pattern or routine with some of those things you already do. Think from start (wake up time) to finish (go to sleep time). I created an amazing weekly schedule page with 15-minute increments! You can make it as broad or detailed as you would like. Remember to keep things flexible. Some days you will just have to go with the flow, but this schedule will serve as a guide to keep you on track. I will give you an example of one filled in!
Where Should I Keep My Schedule?
You will want to put it somewhere you can see it throughout the day. If you are anything like me, crossing things off a list is one of the best feelings. If you are going to take the time to make a schedule you should use it! Look at it! See those goals you have made and watch yourself nailing them!
You can use this awesome printable I created you! It's yours- print a new one each week or laminate this one and get a dry erase marker! Hang in on your fridge, in your office, by the computer, or even next to your bed.
If you don't like this particular schedule type there are many many out there!
Some might like to write a week on a whiteboard. A command center type planner if you will.
Another popular type of planner is the bullet journal- I love the idea but don't have the time. Here are some cool stickers to make a boring planner more fun!
Please click those photos above to check out your favorite planner options on Amazon. And Check out my awesome bonus- just for you- below!
If you Like/Follow Savor the Mom Life on Facebook and send me a PM. Then I will share that Weekly Bonus Routine Tracker Printable with you!!!!
You May Also Like
January 12, 2021
February 12, 2019