How to Start Teaching with VIPKid Today
April 3, 2019
I have been able to be a Stay at Home Mom for 6 years! It is amazing. I enjoy being home to support my husband and children with love and comfort in our home. There is a scarafice to this- money is tighter and becasue of that the weight on my husband is heavier. Now that my youngest is starting some school I have more time on my hands. I truly want to help with the financial load while keeping my Stay at Home status. Here in Mom's Side Hustle I will be telling you exactly how I make that happen!!!
I discovered VIPKid from an old Army Wife buddy. She kept showing off how she was getting BILLS PAID. She really liked the teaching relationship she had with the kids in her classes as well. Money- something I need. Teaching- something I can do! So I signed up! Now I teach English online while my kiddos are sleeping. The commute is a walk down to the basement and the dress code is a shirt to cover my PJ's!!
What is VIPKid?
VIPKID is a company that offers English language learning lessons to students in China. The lessons take place in online classrooms and follow a company supplied, powerpoint curriculum. All the teachers hired are English speaking, independent contractors, from America or Canada. The lessons last 25 minutes. Kids are taught one-on-one and they are in class with you for only 25 minutes. The goal of the lessons is to immerse the children into the language with fun, creativity, and interaction.
I'm interested! What are the job requirements?
Bachelor's Degree (Doesn't matter in what, but it will help if it's related to teaching or children)
Stable internet connection.
At least one year of some kind of mentor or kid experience (coaching, daycare, babysitting, homeschooling, etc.)
Computer, webcam, headset with a microphone and some props. (Don't worry the props are easy to come by and create. You don't need to have a full supply of props when first interviewing).
Ability to pass a criminal background check.
Here is what you will be getting yourself into…
Pros
Teach from anywhere there is an internet connection! For example, home, a hotel, your mom's house, and on vacation!
Sign up to teach as little or as much as you want. To clarify, there is not a required # of classes to teach. You get booked when you open time slots, teach those classes and get paid for however many classes you teach. And there are bonuses for teaching more!
Teach during hours your own children are asleep and as a result, be able to give them more time during the day. Have the freedom to make your own schedule and not teach when you have vacations and holidays. The job is flexible enough to teach on vacations and holidays if you need it!
Immerse yourself into the Chinese culture by learning more about China and cultivate very fulfilling relationships with your students and their parents.
The curriculum is already prepared for you. All you need to do is review the material and gather props. NO LESSON PLANS!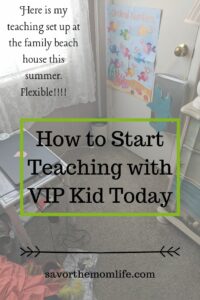 Cons
It can be very slow to get started. If you don't hit the timing and perfected profile just right you consequently may be waiting a long time to get noticed and booked. (So don't wait if you are interested go for it now and I am ready to help with the process.)
Some of the technology can be frustrating. (I am ready to help in any way I can to get you through!)
If you are a teacher in a real-life classroom many of your skills can transfer but some do not. Therefore you may find yourself having to relearn how to teach certain things.
The time difference- Bejing is where the company is based and they are about 12 hours difference give or take from us here in North America. Because of this if you really want to teach the maximum times you will be teaching through the night and early morning.
I'm totally interested I want to Start Teaching with VIPKid!! What now?!
Step by Step Application Process for VIPkid
#1. Submit your application.
Filling in the application process will only take you about 5 minutes. Add my referral code when you sign up. I will be ready to help you through the whole process. I'll give you access to some things I have created to make teaching go a little easier once you are in and you can message me at any time with questions! My Code —->ASHTO0025
My Army Wife friend referred me and she was amazingly helpful! I still message her to talk about students and classes. I am excited to add some more people to my personal network of VIPkid teachers!
#2. Interview and Demo.
When your application is accepted you will participate in an interview and demo class. This will be for hiring purposes but it also is where they decide your teaching base pay. The interview could be in one of two formats:
A live interview with a VIPkid Admin. They will ask a few personal questions. Next, you teach a 15-minute demo lesson. The interviewer acts like a 5-year-old student and evaluates your teaching and classroom environment (lighting, professionalism, etc.) I recommend going this route.
If there is not an interview time slot that works for you, there is an option to record a demo class. Here there will be no "student" to interact with and you will have to pretend to teach someone. (This is harder than it seems. Especially when you are just learning all the ropes.)
I was quite nervous when I had to go through these stages but the more you are on the camera and in the online classroom the easier things get. This is part of the reason they do several stages of the interview this way, to get you practicing! My mentor was an excellent cheerleader!
The interviewer is looking for great lighting, the use of at least 3 props, a reward system, and good TPR. (What the heck is TPR?- Total Physical Response. Because you are teaching English and online, you need all the help you can get. Move your hands almost like sign language to get those kids understanding.) Check out this youtube link for tips and ideas to pass the interview and demo.
#3 Teacher Training.
VIPKID will give you more access to the curriculum, videos, and reading materials to train yourself after you have made it through the interview and demo process. Workshops will be available with experienced teachers giving out great advice. There are also many Facebook Groups with plenty of teachers ready to answer all your burning questions.
Facebook Groups to Check out:
This will be a great time to use me as a resource! Questions about the classroom, where to get props, best ways to prep for classes, etc.
Workshops are not mandatory but they are very helpful. They are taught by very experienced teachers and are full of other new teachers. People will be asking questions you didn't even know you needed to ask! I took several workshops and they were during the day time when my children were home. I was able to keep my camera off and microphone muted. This way I could listen, participate by chatbox, and still not have my kids interrupt.
#4 Mock Class
Next, you will complete a mock class. This is a live class with a mentor interview teacher.
First, the mentor interview teacher will ask you a few questions, give some advice, and answer any questions you may have.
Next, you teach a sample of the curriculum (this is one of two power points available for you to review and prepare beforehand). You will be given the powerpoints and you can do a youtube search for specific pointers. This is where they want you to practice and learn how to teach their content.
After teaching for only 10 minutes the mentor interview teacher will give you some feedback based on your teaching.
This could end in three ways- you are approved as a teacher, you are asked to complete another mock lesson, or you are rejected as a VIPkid teacher (don't worry there is a possibility of applying again.) If you do get called back for another Mock class, think of it as more time to practice and perfect your skills.
#5 Signing Your Contract
Once passing the Mock class you will move on to signing your contract and going through the background check. You will upload copies of your Bachelor's Degree and identification while waiting for the background check to go through. Also, here you will complete your personal profile- which is very important for getting noticed by parents.
Personal Profile
One profile photo- should be professional, make sure it's of your face, and does not have a distracting background.
Two featured photos- something that shows your personality and or interest. Think about photos that convey your experience with kids or your temperament/teaching style.
Introductory Video- This is only about 15-30 seconds long. If you don't have a view of your classroom or teaching background in one of your photos make sure the video has it. You want to convey your teaching energy to the parents who will be watching. Including some fun music and graphics really help. (My first video had none and I had no one book me for a long time!) I just used a free video editing software downloaded on my phone to doctor up the video I had already created. It worked like a charm.
Your Bio- Make sure to put your teaching, childcare, or mentor experience here. Parents like credentials. I also described my family and hobbies in this section as well.
#6 TESOL -Teaching English to Speakers of Other Languages
You will have to complete a TESOL Foundations course if you do not already have a comparable degree in teaching. There is also an Advanced version to complete and add to your credentials as well. The course has lots of videos and reading material. You must complete several short quizzes at the end to pass and get the certification. The quizzes were not super easy but not impassable. Just do the reading and you can get through no problem.
#7 Open those booking slots!
After the background check has passed you are in! You will be placed into one of the certification levels. This is the only level you will be able to teach until you apply for and record other mock lessons for each level.
Pre VIP or Level 1
Interactive Level 2
Level 3
Level 4
There are also 5, 6, and Trial 3.0 certifications. You can apply to these as well once you are in but will have to complete a recorded demo and/or have a certain number of classes under your belt.
You can now start the process of opening class times and cross your fingers for bookings. It may take a long time to get booked. You can take workshops to practice and make you more ready for actual teaching.
Once you have more experience under your belt there are more supplementary type classes you can become certified to teach. More certifications equals more students and more bookings.
If you choose to use my code when signing up I will give you all the information I know to help you get booked. Go here to the sign-up page.
I will be giving away my Trail class feedback templates and prop checklist to anyone who subscribes from this page or uses my referral code (ASHTO0025) when signing up for VIPKID. Other freebies will follow!!
Interested in more side hustle ideas for moms check out this post!
You May Also Like
March 22, 2019
January 3, 2019
January 16, 2020