Diva Cup Review- Savor the Mom Life Approved
July 12, 2019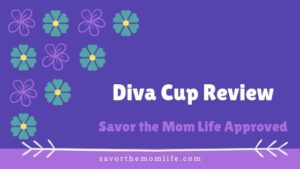 The one thing almost all moms have in common is encountering that monthly friend- your period. In our busy life of kid wrangling, homemaking, working, and whatever other to-dos on your list- the period is never convenient. Today's post will give you Savor the Mom Life's honest Diva Cup review. This little creation has made that time of the month a little easier for me. Read on to see how it can make things more simple for you!
I have been, or can be if you click on a link and make a purchase, compensated via a cash payment, gift, or something else of value for writing this post. Regardless, I only recommend products or services I use personally and believe will be good for my readers. Please read my full disclosure for more information.
What is a Diva Cup?
A Diva Cup is a small cup that can be inserted into the vagina during menstruation. It prevents blood from leaking onto clothes. They are made of medical-grade silicone and have a small stem for removal. Diva Cups come in 2 sizes- 1 or Small (pre-babies) and 2 or Large (post-babies). 
This cup has the capacity to hold 30 ml of blood! Compare that to your run-of-the-mill jumbo tampon, which holds about 10 ml of blood. This is the best part- they can be worn for 10-12 hours! Swimming? NO PROBLEM! You can enjoy first-day flow in the pool with no leaks and no wet tampons between your legs. 
How Does it Work?
Before you start, wash your hands and the cup with mild soap and water. They make a special wash for the cup but a store-bought mild soap will also suffice. 
Sit or crouch in a comfortable position. 
Fold the cup in half and insert far enough in so that the stem does not protrude or rub on your vaginal opening. (I cut some of the stem on mine because it was in correctly and still rubbing. This is an actual suggestion on the instructions provided). 
After the cup is inserted, turn it 360 degrees to be sure it is fully opened and sealed. 
Inserting the cup can take some practice. If it is feeling uncomfortable, you should take it out and try again. 
Cleaning Your Diva Cup
The Diva Cup company does have a special wash available to purchase. I just like to use mild soap and water in between changes. You want a soap that is free of harsh dyes, perfumes, and additives that could be harmful to you or the cup. Sometimes I just give it a very good rinse. Also, you will need to give the cup a good sanitizing boil once a month. I always wash mine after my period so it is fresh and ready to go the next time I need it. Just one to 2 minutes in the boiling water should do the trick.
Pros for the Diva Cup Review- Why this Mom Loves it!
Carefree swimming! No leaks and no wet tampon feeling between your legs when you get out of the water.
Empty it once in the morning and once at night. It is good to go for 10-12 hours. You might find yourself emptying more than just once on heavy flow days. That's still less than changing a tampon every hour.
No money spent on tampons and pads! Buy once and it will last a long time. Diva Cup's website says you should replace annually but with good care it can last a lot longer than that. (Mine is 4 years old and I am just now thinking of replacing it).
It comes with great detailed instructions for use and care. You also get a very cute storage bag.
They really work for any activity and are excellent for long car trips or times you have to sit for long.
It can be inserted before your period!!! If you know it is coming and you don't want that initial surprise leak, you can put the Diva Cup in that morning to be prepared without worry.
The Diva Cup is also a great green option- using it means fewer tampons and pads out there in landfills!
Cons for the Diva Cup Review- It's pretty great but still not perfect.
It can take some time to get the hang of inserting the cup correctly. I recommend getting it asap and doing a few test runs before you really need the freedom from tampons it provides. 
When you are in a public restroom it can be awkward to empty and rinse (a bathroom stall may make this a challenge.)
It does stain after a year or so of use (It still works great! Even though is stained, as long as it's clean it will be ready to use).
You will need to be comfortable putting your fingers in there to insert and remove. This is not a problem for me but it may be for some women. 
And for the big overshare- sometimes a big poo might push the cup out/down. I had my cup come out right into the toilet… yikes! But I washed it very well, sanitized it and it was good as new. 
All the downsides are mostly subjective. If you are not a tampon user already then I don't recommend the diva cup. If any of the pros seem awesome to you then I highly recommend trying out a Diva Cup ASAP. 
Savor the Mom Life's Seal of Approval!
Please if you have any questions or want to share your own Diva Cup experience send me a comment below. I love to talk about this product. 
Please check out some of my other Savor the Mom Life approved reviews below.
Mom's Side Hustle- Wealthy Affiliate Training Freebie! 
How to Start Teaching with VIPKid Today
You May Also Like
October 21, 2019
January 7, 2021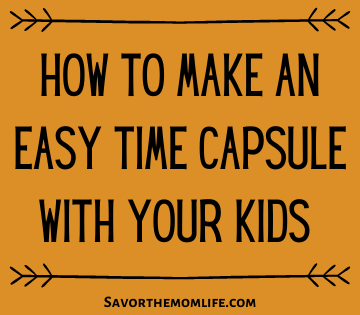 October 20, 2020