Family-Friendly Stay-cation Inspiration
June 24, 2020
Your vacation time is not going as planned. Emergencies, weather, budget, or global pandemic- whatever the reason sometimes our trips and travel get canceled. Instead of dwelling on the depressing thought of "Well this sucks and we will be bored and trapped!" try to think outside of the box. Get ready to enjoy where you are! Mix up every day with some Family- Friendly Stay-cation Inspiration!
I have been, or can be if you click on a link and make a purchase, compensated via a cash payment, gift, or something else of value for writing this post. Regardless, I only recommend products or services I use personally and believe will be good for my readers. Please read my full disclosure for more information.
Here are the topics to consider when looking for your stay-cation inspiration:
Theme
Food
Games
Movies
Clothes
Decorations
Local Fun
New House Rules
Theme
Lots of trips like cruises usually have a fun theme. You can totally do this at home! Hit up Amazon or your local Dollar Tree and look for some inspiration for a theme. You can pick a theme to stick to for a whole week or do a different theme every day! Dress, eat, follow rules, watch certain movies, and decorate to match the chosen theme! You could even put your favorites in a hat and pick a new one to try out each day. I have many different Themed Busy Boxes with Leaning Activities for Preschoolers. Some of those games and ideas can be used here as well. Sample Ideas for Themes:
Formal Night
Beach Theme
Camping Theme
Sports/ Olympic Theme
Shark Week Theme
Color Theme
Food
Travel and Vacation can inspire you to try new foods or indulge in some favorites you may typically skip. Plan some new exotic recipes to attempt. If you have chosen a theme be sure to keep that in mind while you are planning your food. Don't forget to try some local dine-out or carryout options. I know there are some restaurants around me I have yet to try out!
Games
Get a jigsaw puzzle with an end goal of finishing during that week!
Try a new family board game or choose from an old favorite.
Make up some of your own games like Family Olympics or home make board games.
Don't forget to create some fun awards and prizes for the game-winners.
Another idea could be a video game tournament!
Movies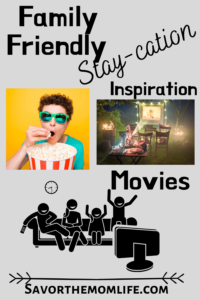 Pick some fun movies to match your theme and let the kiddos stay up later than normal to enjoy them!
Match fun snacks for the movie.
Parents, think about your favorite childhood movies to share with your kiddos.
Clothes
Get creative in your closet. Pick a new way to dress for the day or for dinner each night to match a chosen theme. Here is some dressy theme idea inspiration:
Patriotic
Formal (Break out the suits, tuxedos, and old prom dresses!)
Sporty (Family Team Shirts!)
Floral
Beach
Western
Super Hero
Color (Each night of the week you choose a family member's favorite color and everyone dresses in that color)
Decorations/Crafts
I have already mentioned this topic several times. You can pick some fun decor that will match your theme. Go to dollar tree, or party city, or do a search on Amazon if you need some decorative supplies to match your theme. If you need to do things on the cheap, try to choose a theme you already have the supplies for! There are a million DIY ideas for anything you might want to craft or create on Pinterest. You may even already have some of the supplies in your home. Nothing is stopping you from searching!
Beach theme?- Get out the beach chairs and umbrella! Stick your feet in the kid's sandbox! Have the kids create some sea creature pictures or coloring pages to decorate and match the theme.
Sports theme?- Get out the kid's sports equipment. Create some crafty cheerleader pompoms.
Local Fun
Planning vacations often involve looking for fun things to visit, see, and do when you get to your destination. You can do the same with a Stay-Cation! When was the last time you looked for a new adventure within an hour's drive from your own home? Some ideas for when you are searching:
Activities
This section of inspiration again is about doing things differently than usual. You can have different house rules for each day. B
Backward Day- Breakfast for dinner, dinner for breakfast, dress backward, do routines backward, play games backward, etc.
PJ's all day.
Yes, Day– Parents say yes to all reasonable requests with boundaries.
Movie Outside (Check out this projector on Amazon).
I will continue to add some inspiration to this page. I hope you got some fun ideas for your family staycation!
Here is a FREE PRINTABLE for Planning it all!!
Please if you were inspired and printed this little planning sheet, then share with me your Stay-Cation on Savor the Mom Life Facebook Page! #SavortheStay-cation
You May Also Like
May 1, 2018
May 22, 2018
November 17, 2021