How to Paint With Recycled TP Rolls Cute Craft for Kids- Spring Edition
March 29, 2022
Springtime is here! Everyone loves a good paint craft. For this craft, you have to look no further than your recycle bin! Grab out those TP and Paper Towel Rolls. They can make wonderful stamps with only a little work! In this craft, I show you how to make a bunny, a flower, an egg, and a chick. if you want to take your craft time to the next level with some learning-inspired games then read on for How to Paint With Recycled TP Rolls Cute Craft for Kids- Spring Edition.
I have been, or can be if you click on a link and make a purchase, compensated via a cash payment, gift, or something else of value for writing this post. Regardless, I only recommend products or services I use personally and believe will be good for my readers. Please read my full disclosure for more information.
Supplies
5 and a half TP Rolls
Scissors
Tape
Stapler
Paint
Paint Plates
Painting Paper
Shaping the TP Rolls
Cut the rolls in half and pinch and shape the rolls in the shapes. Use the Tape and the staples to help you form the shapes. Be sure to have the roll edges flat across the side you will be pressing into the paint. It's important so that your stamp will come out even when dipped into the paint. Check out the How to Video Here!! <——
Bunny-
Fold one half in the shape of a triangle. Fold the other all the way in half and staple in the middle. Tape the two together with a narrow cut of tape.
Chick-
Fold one half in the chapel of a triangle. Fold another half in half and then pinch in the two ends to make it like 2 toes or the feet. Add a staple in the middle. Tape the two edges together with a narrow cut of tape.
Egg-
Shape one of the round halves into an oval egg shape- Easiest ONE!
Flower-
Cute 3 TP Rolls in half. Next fold them flat and cut each side. Tape together 6 smaller rolls. Don't skimp on the tape. They will pop open on you. Then arrange them with a center circle and 5 around the outside. Be sure the bottom is flat on the table and tape around the outside of the flower.
Get Painting
Prep the area for Messy time. Pour some paint onto disposable plates. You need to have a flat surface to put the paint on the stamps. Dip and paint!
Ideas for Learning Play
Creating Sets
Decorating/ Creative
Creating Patterns
Labeling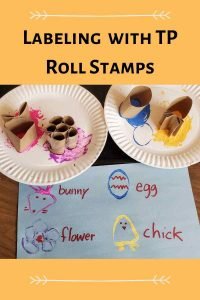 Please Check out How to Paint With Recycled TP Rolls Cute Craft for Kids- Halloween Edition.
Also, don't forget to look at my Spring Busy Box! It will go great with this stamping activity!!!!
You May Also Like
August 9, 2021
June 22, 2018