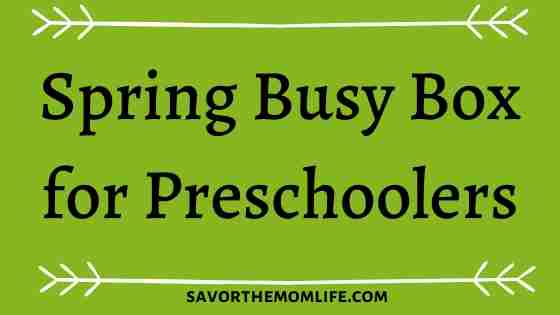 Spring Busy Box for Preschoolers
March 26, 2020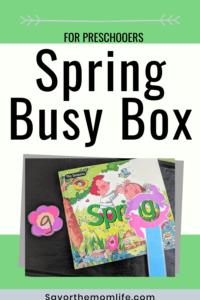 The weather is starting to turn. Flowers and trees are starting to bud. Bugs are beginning to come out. Spring has sprung! In between spring cleaning I created this Spring Busy Box for Preschoolers. It has all the supplies to practice these pre-school skills with your kiddo. After showing them how to use the toys, games, and books, you can get those kids playing and learning with some independence.
I have been, or can be if you click on a link and make a purchase, compensated via a cash payment, gift, or something else of value for writing this post. Regardless, I only recommend products or services I use personally and believe will be good for my readers. Please read my full disclosure for more information.
If you want to know more about the preschool skills I refer to when creating each busy box then check out this post about Education Based Preschool Skills for Ages 2-5.
Pre-Reading Busy Box Activities
Print Awareness and Print Motivation
Springtime books can cover a wide variety of topics. Remember when reading with your kids to model how to hold the book and turn the pages. Read the title first and follow along with the words as you read. Talking about the pictures as you read each page is also an important step in modeling how to use the pictures to help with comprehension or understanding of what is being read. Check them out on Amazon today.
Fiction
Non-Fiction
You can even use the very basic sight word book "I Like…" to inspire them to create their own story. My 4 and 7-year-old loved this exercise. Here are their spring stories. It is ok if they can't write words yet. Stories can just be pictures!!! Here is a link to my kiddos reading the stories they created!
Letter Knowledge
You can use those books mentioned above and these cute letter/ word wand printables. Kids can search for certain letters or words as they are reading or looking through the book.
Match the flower letter flashcards to the letters you find as you read. Use the uppercase and lowercase flowers to match those letters as well.
Phonemic Awareness
You can match the letter flower cards to toys that have the same beginning sounds.
You can create flower gardens with CVC (consonant, vowel, consonant) words or sight words. Create the word on the garden printout by lining up the flower letter flashcards!
Try a fantastic sight word game with bugs and fly-swatters!
Pre-Writing Busy Box Activities
Fine Motor
Games like puzzles, play dough, beads, and sorting toys help fine motor practice. Here are some great spring-themed finds on Amazon.
These are two that my children love. I purposefully put them away with the Easter decorations so they can only play with them in that Springtime of year. It makes them like a brand new toy!
If you laminate the flower flashcards you can let your kiddo trace the letters with a dry erase marker for some writing practice. Be sure they are using the crabby pincher grip on the marker. Check out Fine Motor Skills for Preschoolers- More than Just Writing to learn more about the Crabby Pincer Grip!
Pre-Math Busy Box Activities
Sorting, Patterns, Set Creating, and Counting
Check out these fun spring-themed sets I found at the Dollar Tree. Once you play with them a few times and model for your kiddo how to sort, make a pattern, count or create a set they will practice those skills on their own. Just give them the new fun-themed material and the space to tinker! Here are some examples below!
Here is a pattern for creating your own ladybug bean bags! You can even make it no-sew if you like! Add the dots to practice counting and recognizing numbers 1-10!! The ate fun to place in order, count, and throw! Check out my link to how to sew easy bean bags on YouTube.
The Importance of Modeling!
Don't forget to show your kids how to play, how to read, and how to write. If you want them to use these tools independently. You have to take the time to show them how and to Fill their Attention Cup so they are ready to play on their own. Check out my Youtube Channel for lots of examples of how to play, learn, and use these busy boxes!!
You May Also Like
November 5, 2020
July 8, 2020
August 27, 2020