Mom's Spring Cleaning Checklist- Highly Motivate Mom vs. Lazy Mom
March 26, 2019
It's Spring! Finally, time to open all the window's, kick the kids outside longer and get ready to enjoy the warm weather. I always feel the need to deep clean my house after a cold and snot filled winter. Something about the sun being out longer shines a light on all the dirt and since the kids are going to be outside more it's OK to spend more time cleaning! It may stay clean for a little longer, at least until they are home all day for summer break. Check out my Mom's Spring Cleaning Checklist. I made one for the clean freak mom and one for the less motivated mom. Enjoy!
Bonus: If you read all the way to the bottom there are ideas to get your kiddos helping with the chores too.
I have been, or can be if you click on a link and make a purchase, compensated via a cash payment, gift, or something else of value for writing this post. Regardless, I only recommend products or services I use personally and believe will be good for my readers. Please read my full disclosure for more information.
Mom's Highly Motivated Spring Cleaning Checklist
Kitchen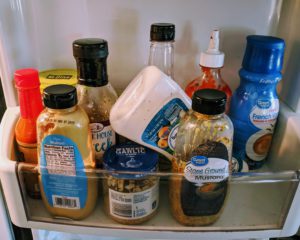 Wipe down all cabinet doors and drawers. Organize and purge all inside contents. 
Wipe down refrigerator, inside and out. Purge any outdated food and condiments. 
Wipe down the stove and oven. Clean burners. Run self-cleaner setting on the oven (make sure this is on a day you can have the windows open.)Don't forget to wipe the crack between the oven and the counter. 
 Wipe sink, drain, faucet, and run some ice and lemon in the garbage disposal. 
Run vinegar bowl in the empty dishwasher. Wipeout any loose debris and clean out filters. 
Run vinegar bowl in the microwave and wipe inside and out. 
Wipe and clean out any counter-sitting appliances( toaster, coffee maker, etc.) 
Sweep and Mop floors with all furniture moved. Don't forget to get all the baseboards. Take a vacuum cleaner to the bottom of the refrigerator. 
Wipe down all chairs and tables with soapy water. 
Bathrooms
Wipe out the sink and make sure the drain is clear and clean. 
Wipe all cabinets and drawers. Organize and purge contents. 
Wipe the toilet from top to bottom. Inside-outside and remove toilet seat to clean (or maybe even install a new one!) 
Wipe windows and baseboards. 
Wipe the shower walls. Scrub the tub. Inspect and clear tub drain (EWWWWWW). Clear any old caulk and add new. 
Dust and wipe light fixtures and exhaust fan. 
Windex mirrors and windows. 
Shake out and wash throw rugs.
Sweep and mop floors. 
Linen Closet:

Refold all sheets and towels. Wipe shelves. Organize and purge.
Bedrooms
Dust Ceiling fans, wall decor, dressers, bedside tables, and window sills.  
Organize and purge the closet, dressers, and bed-side tables. 
Windex windows and mirrors. 
Move bed and vacuum underneath. Flip mattress, spray with Lysol, and vacuum. 
Sweep and mop or vacuum the rest of the room. 
Shake out and wash any throw rugs. 
Living Areas
Dust all decor, lamps, tables, bookcases, tv, and electronics, etc.
Windex windows and wipe down the sills. 
Remove sofa cushions and covers- launder anything possible. Vacuum out sofa and any cushions that cannot be laundered. Lysol everything. 
Move furniture. Sweep and mop and/or vacuum. 
Shake out and wash any throw rugs. 
Fire Place:

Shovel out any leftover ash and shop vac out the hard to get bits. 
Mom's Lazy Spring Cleaning Checklist 
(This may or may not be a fictional recreation of spring cleaning in my house).
Kitchen
Wipe down the one or two cabinet doors next to the stove- they get the most greasy anyway. 
Take any old papers off the fridge, move them to the counter, and have a snack.  
Look at the top of the stove and save that for the husband to clean. Maybe wipe the dribble on the stove door.  
 Put dishes from the sink into the dishwasher. The sink is now clean!
Run dishwasher- clean!
Wipe the inside of microwave sides and curse at the stuck on tomato sauce on the top.  
Clean off one counter. Pat yourself on the back and have a coffee break. 
Wipe the one counter you cleaned. 
Sweep the floors, let the dog lick up the crumb pile- mopped!
Put a new table cloth on the table and have a seat to enjoy the rest of your coffee. 
Bathrooms
I cleaned the sink and toilet on Monday they are fine. 
Empty the trash from under the sink. 
Run a bleach wipe across the baseboards to collect hair.
Clean out tub shroom (the most amazing bathroom gadget I own). Think to yourself "I'll wipe the walls with a scrub brush in my next shower."
Thank the spiders for keeping other bugs out of the bathroom. 
Windex toothpaste smears from the mirror. 
Shake out a throw rug. 
Think about sweeping but then realize that the bleach wipe you used on the baseboards was good enough. 
Linen Closet: Shut the door.
Bedrooms
Dust Ceiling with an old pillowcase, take a 15-minute power nap. 
Carefully fold up the beloved flannel shirts and shove them into the top of the closet. 
Look in the mirror and decide to get dressed for the day. 
Find your favorite pair of shoes under the bed and cringe at the dust bunnies. 
Vacuum around the basket of laundry that needs to be folded.
Living Areas
Dust one lamp and tv. Toddler requires to you watch whichever Disney princess movie is the current favorite. 
Clear cobwebs from windows as you open them for fresh warm air. 
Remove sofa cushions and covers- cringe at the crumbs and put them back. Bribe the 6-year-old with video games to use the hand vac later. 
Move furniture. Fill a box with lego bits. Vacuum. 
Fire Place: Dang, I wanted one more fire before I was spring cleaning. 
Chores the Little Kids Can Help With 
Kitchen
Wipe down bottom cabinet doors. 
Organize fridge magnets. 
 Reorganize the silverware drawer. (Great for a lesson on sorting)
Help sweep and clean up dirt pile. Use this great kid-sized broom set. 
Wipe down their chair at the dinner table. 
Bathrooms
Wipe out the sink. 
Empty the trash from under the sink. 
Roll up throw rugs to be washed. 
Collect toothbrushes to be dishwashed. 
Bedrooms
Dust their room.
Make sure clothes are in drawers, closets, or hamper. 
Fill one bag of toys to give away. 
Take sheets off the bed.
Living Areas
Help dust. 
Windex the windows where they can reach.  
Use the hand vac to clean out sofa crumbs and under the sofa.  
Fill one bag of toys to give away. 
Final thought: Focus on what is important for you and your family's happiness. 
Mom's Spring Cleaning Checklist is up for interpretation. A clean and organized home feels great but doesn't stress yourself out and sacrifice time with your family to get it that way!
Here are some links to some of my favorite printable spring cleaning lists! 
https://www.blesserhouse.com/how-to-enjoy-deep-cleaning-your-house-2-awesome-freebies/
https://www.centsablemomma.com/free-spring-cleaning-checklist-printable/
Please Check out Some of my other Mom guiding Posts!
You May Also Like
January 24, 2019