A Parents #1 Wish for their Children
June 22, 2018
Every Parent's Wish things for children! What would you pick if you could only share one? What is the most important?

Recently one of my cousins did a poll on Facebook for a class he is taking. One of the questions he asked of parents was "Name the ONE thing you as a Parent's Wish for your children in life." My immediate answer was happiness. I still stand by my answer but considering some recent worldly events it has gained an even deeper meaning for me.
I have been, or can be if you click on a link and make a purchase, compensated via a cash payment, gift, or something else of value for writing this post. Regardless, I only recommend products or services I use personally and believe will be good for my readers. Please read my full disclosure for more information.
All the political and human drama going on currently involving our borders and immigration laws has me feeling sad. Everyone has an opinion about it, but really no matter what side of the "Wall" you associate with, we can all agree that children are our future. Many are very passionate about what is going on but don't have any ideas as to how to help change the situation.
I myself am mostly apathetic when it comes to politics. I do prefer to stay in my own world and focus on my own family. This does not mean, however, that I do not think about worldly problems or that I live in an "ignorance is bliss" state of mind. I wish all these people crossing our border and working to give that one big wish to their children felt they had a better way to go about it. My goal here is NOT to create a debate about who is at fault or even discuss why certain policies are good or bad. I am here to remind everyone of our common goals and us as parents wishing for our children.
Here is a list of the top 18 ONE wishes my cousin's poll question generated. All are great wishes. Some may even be synonyms for others or even encompass others.
Happiness
Inner Peace
Satisfaction
Self Sufficiency
Independence
Employment
Good Health
Stress-Free
Faith in God
Love for Self and Others
Wisdom
Kindness
Belonging
Humility (Humbleness)
Positivity
Confidence
Serenity
Know Thyself
My answer is still Happiness!
I will explain why. Wishing for happiness for my kiddos means, as a mother, I will be working to teach them to find and keep said happiness. I can help guide them to choose what brings them happiness as well. I can show them the joy of being kind, helping others, working hard, loving, family, etc. This list could continue endlessly. We as parents need to focus on teaching our kiddos to seek happiness not only for themselves but also for others. Leading by example is the most important.
I am aware there are many people and kiddos out in this world that does not have this privilege, but I alone could never hope to change this. I can only hope that by sharing acts of kindness and love within my small reach, happiness will spread to others. At the very least it will spread to my children and have a ripple effect. All these wonderful 18 wishes can and will aid in creating future adults whom we will want in charge of this world in the future. We as parents just need to try our hardest to guide and encourage our kiddos down the right path.
My favorite song I sing to my kids Have it All by Jason Mraz can be listened to and downloaded on Amazon Music (click the pic below):
Please, if you enjoyed reading this add a comment sharing and explaining your one biggest wish for your kiddos.
I would love to make the list longer. Testimonies on a time when you taught a great lesson providing your child with a stepping stone towards your wish for them! COMMENT Positivity!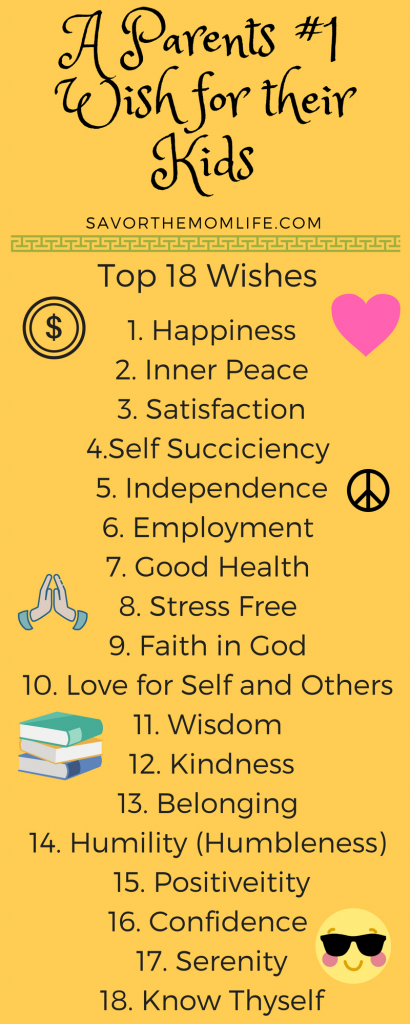 Another blog I have written about the benefits of connecting with your kids has some great ideas on building those stepping stones.
https://savorthemomlife.com/the-benefits-of-connecting-with-your-kids/
You May Also Like
January 24, 2019
September 17, 2018
February 19, 2019