Acorn Craft and Learning with Preschoolers
October 8, 2019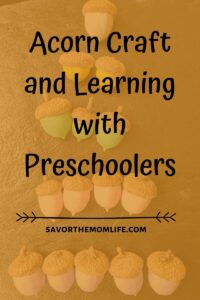 Acorns are everywhere in the fall. Especially if you live somewhere full of oak trees. Kids are just pulled to collect and hoard these for some reason. It's like they were squirrels in a previous life! Here at my house, they get used in the mud kitchen, for crafting, learning, and even the occasional acorn fight (ouch!). You and I are always on the lookout to encourage our kiddos to use their current interests to learn. This post is ready to show you 2 fun ways to get crafty with acorns and 2 educational ways to play with them.
I have been, or can be if you click on a link and make a purchase, compensated via a cash payment, gift, or something else of value for writing this post. Regardless, I only recommend products or services I use personally and believe will be good for my readers. Please read my full disclosure for more information.
Collect those Acorns
Here is a cool tinker video of my kiddo sorting them for me!
The Acorns we collected come in 5 different stages:
Caps only.
Bottom nut part only.
Cap and bottom still attached.
Two acorns attached together by the caps.
Rotten! (Look them over closely- I found a maggot crawling from one. EWWWWW!)
Craft #1
First, I used acorns with the caps and bottoms still attached first. Grab the acrylic paint and had fun. They are painted in sets of 5, 4, 3, 2, and 1. I chose to paint mine solid but you could get fancy and add patterns. 5 purple, 4 pink, 3 green, 2 yellow, and 1 white. You can let your kiddo do the painting but it will be messy since acorns have no flat side to rest on.
Learning Game #1
Let your kiddo play with the fun colored acorns and sort them by color. They can practice counting the acorns and recognizing the number sets. Check out this cool printable acorn number sheet I created to make playing with them even more organized and helpful. Subscribe to get printable in the Busy Box Library. Learn those numbers kids! You can also line the acorns up in a color or size pattern line. Look here for the tinker video!
Craft #2
I used just the caps for the next craft. I gathered 10 marbles (or you could use pom poms) and super glued some pretty marbles to the inside of the cap. These are very cool. I am going to hang them with some string in the window so the light will catch in the glass.
Learning Game #2
The kiddos will love the idea of playing with pretty marbles that now look like super acorns. Mine practiced lining them in a row horizontal and vertical. They also practiced counting the marble acorns. You could do a lesson on why they don't roll as well as a plain marble by rolling the new acorn marble and just a plain marble. If you used the pompoms you could have your kiddos line up the different colors in a pattern.
There are several Acorn Tinker Videos up on my Savor the Mom Life YouTube Channel. Enjoy watching the peaceful learning tinker of kids and SUBSCRIBE! Please use them to encourage your kids to play and learn with acorns!
Don't forget to subscribe for access to this acorn counting mat and 20+ other Busy Box printables.
You May Also Like
September 3, 2020
November 24, 2020