24 Acts of Christmas Kindness- Kid Challenge
December 5, 2018
24 Acts of Christmas Kindness- Kid Challenge
I have been, or can be if you click on a link and make a purchase, compensated via a cash payment, gift, or something else of value for writing this post. Regardless, I only recommend products or services I use personally and believe will be good for my readers. Please read my full disclosure for more information.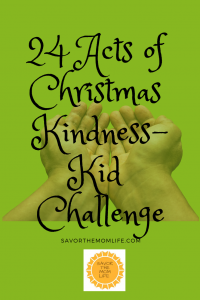 December is officially here. My kids are like most and very excited about the visit by Santa. They get treated well each year by the guy in the big red suit! Goodies from Mom, Dad, and the doting family easily add to the spoils. It is so easy for them to get swept up in the "I want" attitude.
Acts of Christmas Kindness Inspiration
Just the other morning we went to breakfast with Santa. They got pancakes shaped like Christmas trees and visited Santa. We got a photo, candy canes AND Santa even gave them each a new super soft and fluffy stuffed animal! Very unexpected and special early treat! We were at a church and all funds collected for this event go into helping the community. I wanted to get some baked goods on my way out, giving a little more and feeding my cookie addiction. Both the kids decided they really wanted bags of candy instead and I let them. The money still goes to the church even if I didn't get my cookies.
Next thing I know Harry saw they had some little packaged toys for girls or boys. It was only a little car or trinket from the dollar tree. He had to have one. I don't know about you but we are on a tight Christmas budget around here. He already got an awesome animal from Santa. That "I want" mentality came into play. I said no and he lost it. Super embarrassing right?! And in front of Santa!!!!! We moved on out of there. I got to thinking about how we need to move away from the "I want" and more towards the "I want to give and help."
If I could go back in time and not be as flustered by his reaction I might have let him buy the toy bag if he was willing to give it to a child in need. I really want them to learn it feels good to help and spread kindness! Just like that church was doing by hosting an inexpensive breakfast with Santa and giving out stuffed animals.
How can I teach that giving Christmas Kindness is just as fulfilling as getting and it isn't just about things? It's about actions.
I find myself looking for ways to teach them more about the joy they can get from giving to others. As a kid, they don't have funds to go buy gifts for people. Another learning experience is learning to be creative and that gifts aren't always about things but actions! I have created a calendar for the month of December with a different act of "kid achievable" kindness listed each day. I hope some of them will help instill some habits of kindness and sharing that will translate to every time of year and not just during the holidays.
The Calendar or Daily Notes
It will be a challenge for them, as well as me. I have to remember to encourage them each day and in some instances teach or assist them in how to accomplish said acts. Right now I just have created the printable calendar to put on the fridge and share as a family. When they are older and can read I am going to put notes in their advent calendar and we will discuss how the act for the day went and how to achieve the next act.
The Calendar I created has an idea for each day of the month! The challenge is for 24. So there are a few extra bonus ideas included. With our busy lives, it's good to have some flexibility. I tried to make all the ideas as kid-friendly as possible. My house has a 6 and a 3-year-old and I am sure they will be up for completing or at the very least helping me complete all of these.
So here they are. 31 Ideas for Acts of Kindness Challenge for Kids During the Christmas Season
Read a book to a sibling.
Leave a tennis ball at a dog park.
Let someone go ahead of you in line.
Donate a book to the library.
Give away outgrown toys and clothes.
Send a letter to a soldier.
Pick up litter.
Give a stranger a compliment.
Leave money on a vending machine.
Coffee and donuts for teachers.
Tape a quarter to a parking meter.
Be a friend to someone new at school.
Smile at everyone you see.

Hide a happy rock.

Visit a lonely neighbor.
Do a favor without asking for anything in return.
Rake leaves or shovel snow.
Make cookies for a neighbor.
Create a picture of a letter for a grandparent.
Leave a balloon at a friend's door with a kind message.
Give a hug to someone you love.
Hold an elevator for someone.
Offer to help carry groceries.
Help to make dinner.
Make a craft for someone you love.
Volunteer at an animal shelter.
Share a toy with a friend.
Leave a jar of wishing pennies at a fountain.
If you are interested in brainstorming some of your own ideas here are some topics to get you started. Kindness to family, kindness to community, and kindness to our world. It would be a cool idea to write these acts on a chain and take one off to do each day until Christmas.
Click on the Calendar for a link to a Printable Version!
Please if you haven't already go read my other Christmas posts! Lots of great traditional ideas.
DIY Felt Nativity Scene and Advent Calendar
Alternative Ideas for Christmas Countdown Instead of the Elf on the Shelf
You May Also Like
November 30, 2018
September 11, 2020
February 8, 2019