Carnival Busy Box for Preschoolers
May 29, 2020
When I was young every spring my school would host an amazing fundraising carnival. It was something I looked forward to every year. Something was always so magical about the games, rides, candy, and prizes. Part of the fun was the anticipation of the event. It was always the same time of year, right before school was done for the summer! I was always excited to see what new games and prizes they had and I was happy to enjoy my old favorites. We can build this same type of anticipation with our kids. Even when we get ready to play with this Carnival Busy Box for Preschoolers we can build that anticipation.
If they have played with other busy boxes before you can get them excited by mentioning a new one! Talk about their favorite parts of the last busy box you used. When playing with them (filling that attention cup first as always) really get into the spirit of the carnival feel by showing excitement. This will help when it is time for them to try some of the buy box activities independently.
I have been, or can be if you click on a link and make a purchase, compensated via a cash payment, gift, or something else of value for writing this post. Regardless, I only recommend products or services I use personally and believe will be good for my readers. Please read my full disclosure for more information.
Pre-Reading Busy Box Activities
Print Awareness and Print Motivation
This section is all about BOOKS. Reading books, listening to books, learning about how to hold books, turn the pages, look at the words and pictures, etc. You will need a combination of Fiction and Non-Fiction when learning.
Fiction Carnival Books for Kids
Non-Fiction Carnival Books for Kids

Letter Knowledge
Flashcards are a fun way to customize the learning of the alphabet. With the carnival theme busy box for preschoolers, I created blue and pink cotton candy letter cards!
The Letter/ Word Wand for this busy box is used to search for letters or words when reading or playing with the flashcards. There is one wand shaped like a Ferris wheel and one shaped like a carnival ticket. The ticket to learning!
Here is a fun game for identifying and writing letters. Get or create your own rainbow confetti. Place it in a shallow pan and use a finger to write the letters. My daughter and I created our own confetti by hole-punching colorful paper. It was long but she enjoyed helping me and then played with the confetti for a long time afterward (independently!)
Phonemic Awareness
Carnivals have lots of fun lights and signs. It will be super fun to play with a lightbox to match uppercase and lower case letters, spell their name and spell sight words, and CVC words.

Here are some Sight word flashcards I created on carnival tickets. To get tickets for prizes kids to have to identify or match the word on the ticket! Get carnival stickers and stamps from amazon to make fun prizes. Balloons, snacks, and even your kiddo's "bottom of the bin" stuffed animals can be prizes. There are some blank tickets in the printable as well you can make a bonus math game and add numbers.
CVC Cotton Candy Sale Cart. You and your kiddo can create CVC words with the Cotton Candy flashcards.
There is also a blank Ferris Wheel Game board in the printables. I have a post all about using board games to teach your preschooler. You can fill in letters or words and use it with a spinner (get blank spinners in the Printable Library) to practice phonemic awareness and letter knowledge.
Pre-Writing Busy Box Activities
Fine Motor
Kids need to use all those little muscles in their hands and fingers to get them ready for writing and coloring proficiency. There are so many ways to work those muscles. it is only limited by your imagination- and that's what you have me for! Giving you creative ways to get those fingers working.
Play Dough
We got creative with the play-dough at my house and created carnival foods. French fries, hot dogs, popcorn, funnel cake, and cotton candy!
Manipulative
Yes, I know these are just toys but they can help build the mood and excitement for the other learning games. These toys also give practice to those fine motor skills. Kids really do learn through play!
Pre-Math
Number Sets, Counting, Sorting, Matching
Spin and match the numbers or sets that you can add to the blank Ferris Wheel Game Board. You can use the maker or sticker or stamps to make sets in the Ferris Wheel.
Create number sets with the Carnival sticker and stamps. Write the number or number word and stamp or stick to match that number or number word.
Create this awesome DIY Ring Toss Game to practice counting the rings or aiming for and matching numbers.
Practice Shapes by creating this DIY Hit the Can Game. Just add numbers or shapes to the can. Then the game becomes -hit the can and name the shape or number. Cut out some of your own shapes and add them to a ball. Aim to match the shape on the can to the shape on the ball.
There are a few blank ticket flashcards and sight word flash cards. Kiddos can get these and count them for prizes!
Give a certain number of tickets to get a prize.
Match the word on the ticket to a game to play.
Connect the number sentence to its solution to get a prize.
Match the number word to the number to get a prize.
ETC.
These math games will take a little extra set up and teaching than normal but trust me they will enjoy. Be sure to fill those attention cups well so they will be ready for some independent play later.
Fill the Attention Cup!
I always put this reminder in! You want your kiddo to play and learn independently then you have to fill their cup. Playing the games in this busy box one at a time and teaching them how to use the materials is a great start. Giving them that special time to build their excitement about some Carnival fun will help make them ready for busy box independent time!
Here are some other products on Amazon that would make creating this Carnival Busy Box extra fun!!
You May Also Like
September 24, 2019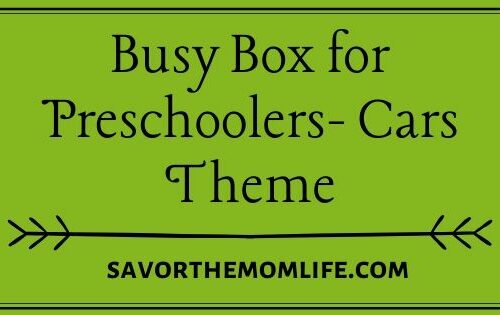 November 21, 2019