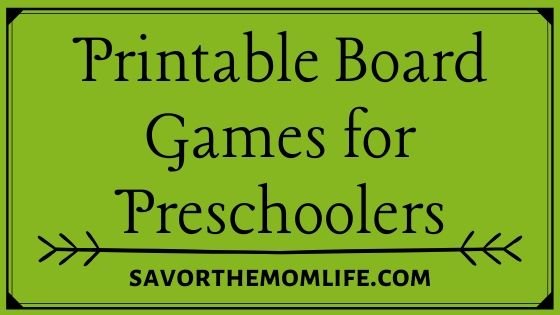 Easy to Customize Board Game Printables for Exciting Preschool Learning
January 22, 2020
Ditch the flashcards and practice the ABCs and 123s with something different. When your Preschooler or Kindergarteners teacher says, "practice letter recognition, sight words, number recognition, etc" and all you can think of is drill, drill, drill. Your kiddo takes one look at the flashcards and runs in the other direction! They can be boring and not fun. It's time for you to get creative while practicing these important basic skills. There are many creative ways to make learning and practicing those skills fun for you and your child. Bonus: After you Fill their Attention Cup and play the game a few times with them, they may even enjoy Playing Independently. Read on for some easy ways to practice these skills using a totally customizable and Printable board game. DIY Spinner included!!! Both are available to print FREE from my Teachers Pay Teachers Shop. Easy to Customize Board Game Printables for Exciting Preschool Learning is going to make that drill and practice FUN!
I have been, or can be if you click on a link and make a purchase, compensated via a cash payment, gift, or something else of value for writing this post. Regardless, I only recommend products or services I use personally and believe will be good for my readers. Please read my full disclosure for more information.
Game Boards
Check out my video on how to assemble the spinner here! If you don't have a paperclip then just close your eyes and point to your space instead of spinning the spinner.
Using a spinner and one of these boards to create your own game will be exciting. Think of these printable worksheets as blank templates for fun. Boardgames are usually 2 or more players. Boardgames are played as a race usually but you could be first to fill the spaces or even a chase-type game. I am encouraging you to use these templates as educational games but you and your children can get creative with the game pieces and the rules. The blank printables are great for creating the same type of game but for kids who are learning different things. Differentiate between letters to words or numbers to math facts.
Spinners
PreK and K Skills to Practice
How do I use the board and spinner?
First, print out your game boards.
Cut out the spinner and arrow.
Laminate, cover in packing tape, cover with contact paper or put them in a sleeve protector.
Follow Video Instructions here for making the spinner spin or use this "blind finger" point idea.
Grab a dry erase marker and add what you want to practice- numbers, letters, or words. The best part is you can erase and change whenever you need to.
Find some game pieces- toys, rocks, candies, cereal, paper cut-outs, etc.
PLAY!
Game Ideas!!
These spinners and game boards are only limited by your and your child's imagination! Below are some fun ideas for how to use them when practicing those PreK skills. I would love for you to share with me how you used your printable board game template. Share your ideas in the comments or send me a picture on the Facebook Group- Parent, Teach, Learn
Letter Match Game
You can match the same uppercase or lowercase letters like A- A or a-a. You can also match uppercase to lowercase like A-a. Those are three different ways to use the spinner- game board combo! Check out this video to see how to play the A-a-matching version of this game.
Sight Word Match Game
You can match the word on the spinner to the word on the board. Put a new toy on each space or race another toy across the board! You can also spin to find words as you are reading a book! Use a favorite toy or book character to point to the words! Follow the links to see how to play and please subscribe to get more videos like these! Here are another three ways to use these easy free tools.
Number Match Game
You can match numbers like 1-1 or 1-one. You can also match the number to the set, for example, the number 5 to a set of 5 dots. As your child advances you can even practice addition and subtraction with these games. So above are 3 more ways to play and this is a video on how to do the number-set matching game.
Extras!
Remember, I said this game is only limited by your imagination! You can add colors and color words, shapes, patterns, and even word families. So make sure you subscribe to the blog and to my youtube channel for fresh ideas!

You May Also Like
October 29, 2019
February 28, 2020
May 13, 2020