How to Make Play-Dough Playtime Successful and Fun with your Preschooler
January 13, 2022
Playdough! Kids enjoy it, parents dread cleaning it but feel nostalgic about it. Elementary Teachers use it as a multi-tool! The clean-up can sometimes be a pain but the benefits and uses far out weight the inconvenience of a little extra mess. Getting a good play dough routine can help with that hesitation. Let's explore How to Make Play-Dough Playtime Successful and Fun with your Preschooler!
I have been, or can be if you click on a link and make a purchase, compensated via a cash payment, gift, or something else of value for writing this post. Regardless, I only recommend products or services I use personally and believe will be good for my readers. Please read my full disclosure for more information.
Everyone is familiar with Play-Doh- comes in individual yellow containers with colorful lids to match the inside. That signature scent will take you back to childhood when opened. Sticking your fingers in to pry out that lump of fresh clay is exciting. Bonus Weird Fact: It was actually originally invented to clean coal soot off the walls of a home. Now there are many brands and varieties to choose from. You can find it anywhere toys are sold! From Lakeshore Learning to Walmart, from Dollar Tree to Amazon, Play Dough is available. Celiac Disease and those with wheat allergies probably need to make their own. Homemade playdough is easy and fun to make as well.
Play Dough Routine
Now for that all-important part of Play Dough Play- the routine. This is where you teach and model for your kids how to use it, so it doesn't wind up ground into your carpet, sofas, hair, or shoe treads!
Allow play dough play to happen in one approved location.
Until the rules are learned and regulalry followed- play is supervised.
Store the play dough in air tight containers and out of reach of courious and excited little hands.
Be flexible in your expectations based on a kids age and experience.
Encourage using one color at a time and putting it back before switching to another color.
Model how to get it out of the can- maybe using a tool to help if you need to.
Teach how to clean up, especailly using a lump of the dough to pad up any leftover tiny bits.
No tasting, eating, or putting in mouth.
Introduce the tools slowly and model how to use them. One or two at a time.
When to Introduce Play Dough
Playdough activities can be wonderful for Toddlers, Preschoolers, Kindergarteners, and Up! Just handing over a lump of dough can be fun and entertaining but if you really want to make play dough playtime successful and fun it's important to model how to play. As the model, we have to think of our expectations and keep them flexible based on the age of the kid, their ability, and their experience. Usually starting around 15-18 months old is a good time. This is when they are starting the "don't put that in your mouth" training.
We Can Think About Playdough Play in 4 Stages
Sensory
Fine Motor
Learning and Academic
Creative and Artistic
1. Sensory Play Dough Play
When children are first introduced to play dough- no matter the age it starts as a sensory experience. The feel of the dough in their hands- soft, hard, cold, squishy, etc. Bright colors to catch their eyes. The smell of the dough when it's fresh or if you add essential oils. Obviously, the end goal I to not eat the dough but if you want to try it before that " I put everything in my mouth" stage is over, there are plenty of homemade edible versions to try out. Just remember to remind them of the "not in your mouth" rule.
Playdough play can be a relaxing and calming experience. A bonus addition would be playing different types of music as they play with the dough. It would add the hearing sense to the experience and probably change their touch on the dough- softer music for a softer touch for example. New experiences and small attention spans make the beginning playdough sensory experience a short one. Don't play for a long time. 5-10 minutes at the start and gradually add more time as your kid changes and matures.
Tips and How To:
Only play in one approved, monitored location every time.
Stick with one color at a time.
Discourage tasting.
Encourage and model touching, poking, squeezing, pulling, ripping, tearing, smashing, etc.
2. Fine Motor Play Dough Play
After Kids have their first intro to playdough and have practiced with sensory play you can start to focus more on Fine Motor Play. Fine Motor Skills for Preschoolers- More than Just Writing <– Learn more about what Fine Motor Skills are here. The short explanation of Fine Motor play is to work with the small muscles in the fingers, hands, and arms. It's about the intentional movements of the dough. Rolling, shaping, and using tools to manipulate the play dough is what these activities will be centered around. Fine motor skills are what we use to hold a fork, brush our teeth, and even draw and write. They even make playdough scissors to practice that fine motor skill of cutting.
Tips and How to:
Only play in one approved location every time.
Stick with one color at a time.
Discourage tasting.
Rolling with hands and tools.
Pulling apart to manipulate smaller portions.
Cutting with scissors, kife, and cookie cutters.
Encourage some independent play after modeling and Filling Their Attention Cups.
3. Learning and Academic Play Dough Play
I mentioned earlier that Elementary Teachers use playdough like a multi-tool. There are endless ways it can be used to aid in and enhance learning experiences. Fine motor skill building, motivation for focus and calm, practicing the shape of ABCs and 123s, shapes, colors, patterns, hand-eye coordination, Learning Style support, storytelling, and even social skill building! That's only a shortlist of ideas. Playdough play can be shaped into any different experience you can think of!
Tips and How to:
Only allow play in an approved location.
After modeling, independent play is encouraged.
Share expectations on how to use multiple colors.
Roll snakes/ logs to create letter and number shapes.
Make patterns with shapes, colors, or textures.
Practice sharing the tools when playing with others.
Retell stories while creating models of people, places, or things.
Ues Printable Worksheets to enhance the learning while playing with play dough.
4. Creative and Artistic Play Dough Play
The last stage of play dough play is artistic and creative play. Kids can model the clay after photos, real objects, or creative ideas. Making food, animals and storybook characters are just a few examples. The ideas can be as extensive as your imagination. When modeling and creating art it's important to allow the freedom of using many colors. Let them mix or still carefully add the colors separately. It is art you know and beauty is in the eye of the beholder. Let loose and go with the artistic flow.
Tips and How To:
Play in an approved location.
After modeling and Attention Cup Filling encourage independent play.
Allow some time to show off the work before cleaning up.
Put together shapes, colors, layers, and textures.
Create models, sets, or even try some stop motion fun.
You can try adding decoration or extra structure like tooth picks, googley eyes, beads, etc.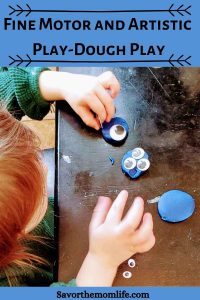 I hope you found some play dough inspiration today! Let me know what stage of play dough play your kiddo is currently in Sensory, Fine Motor, Academic and Learning, or Creative and Artistic? Play-Dough Play is a great tool for those in the Kinesthetic Learning Style. It can be adapted for any learning style but those hands-on learners really love it! Check out the Quiz below to find out which Learning Style Best Suits your kiddo. How to Make Play Dough Playtime Successful and Fun with your Preschooler can be adapted to any age. Use it to make some playdough play plans for your kiddo today!
You May Also Like
June 3, 2021
June 24, 2021
November 17, 2021