The Benefits of Connecting with Your Kids
May 1, 2018
These little people we have in our lives are amazing blessings. It's hard to remember that when they are driving us crazy by challenging boundaries, or when work and other life stresses take our attention. Here is where the benefits of connecting with kids during stronger, happier moments can be very helpful. Connection with kids strengthens the bond. So, when you or your child have a weak or difficult moment, making one of these connections can sometimes make it easier or quicker to navigate the moment.
Connecting with the Kids Helps With…
1. Tantrum Recovery-
Tantrums are not fun but they are a part of life with a toddler. Many kids just don't have the communication skills or rational capabilities to not have tantrums. Connecting and giving attention to your children before, during, and after a tantrum can sometimes help. Sometimes you just need the crazy to run its course. More ideas for Tantrum Solutions are in the links below!
If the tantrum just needs to run its course:
The attention is given at the end of the tantrum. You can talk about the child's feelings. Making sure they know they are heard is important. They can trust they have that connection with you, even when they are at their worst.
If distraction is helpful and possible here are some ideas:
I love to talk to my kids about nature all the time. We play I Spy with birds, squirrels, and flowers. Sometimes when my daughter has a hard time riding in the stroller, I get her going with a good game of 'I Spy. It takes her mind off her current troubles and back to that fun moment from another time when we were spotting wildlife, or even mailboxes and trash cans if you need to get creative. We do this in the house when she might need redirection as well. Use the windows for nature. Check out some fun window-watching games I have created. I Spy, or even just remind her what toy we had the most fun with when we last played, turning her attention to that object.
2. Creating Good Memories-
Building good memories is a very pleasant way to build and strengthen that connection with the kids. It will sometimes be easy to enjoy each moment. But more times than not as a parent we have to work for it. We have to remember the kids didn't cause trouble at work. They are not being silly at bath time to make things harder. They are doing it to have fun! And if you enjoy it instead of getting annoyed- it can become a wonderful memory of a strengthened connection.
Would you rather remember listening to screaming children while making dinner until you are ready to pound a few glasses of wine, or be able to enjoy that wine slowly after having a fun dance party while cooking dinner? Sometimes they want and need our attention at the most inopportune times. I've been in both situations, and trust me, the dance party situation is way better. Sometimes the dance party might not work. So, the wine is there and we go back to try better for tomorrow.
Check out more ideas and reasons to create good memories here- 6 Powerful Reasons to Create and Carry on Family Traditions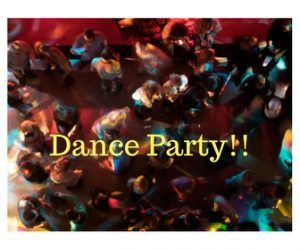 3. Independence Building-
Taking a moment to work with your child while learning a new skill is another great way to connect. Shoe tying, toilet scrubbing, sock matching, or even golf ball cleaning. My husband is a huge golf guy and he loves to clean his golf clubs. Sometimes it's not the easiest thing to do with the kiddos hanging around wanting to help. He taught my son, and now my daughter, how to scrub the golf balls and even polish up some of the clubs. So, now, they can help him with his hobby. Start small and maybe your hobby can grow to be one of your kid's hobbies; and, if that's not a connection, I don't know what is!
We are a busy culture. Always going and always working. It can be hard to slow down and take the time to make the connection through teaching a skill. This is another one of those "suck it up" parenting moments. You kids and you will be better for it. Yes, letting them tie their own shoes might make you late leaving but if you wait a moment and show them help and patience- shoe-tying mastery may come faster!
Check out some of my posts about the Independence Building-
4. When kids are struggling with change-
Change is hard for any person! We as adults have to remember to not expect more of our kids than we would of ourselves. If you as a grown person struggle with this concept- imagine how someone many years younger can deal with it?! Read more on this topic in 6 Tips to Help Guide Your Kids to Cope and React Healthily to Hard Times.
Last year I was doing a lot of babysitting. I had 3 extra babies in my house on different days of the week. My youngest being not yet 2 at the time was still a baby herself. They needed a lot of attention. My oldest was 4 and he had to either be helpful or play on his own a lot. He is amazing, but the change did wear on him. He was used to having way more of my attention and he started acting out a bit. So, I started giving him extra snuggles after storytime each night. He could talk to me, hug me and have me all to himself. Sometimes this was super hard because I would be exhausted, but he needed it and so did I.
I'm sure there are many more examples of and benefits to connecting with kids. I've put together 4 of my favorite connection strategies to get you started. Please feel free to share any time you felt you made a great helpful connection, or, if you struggle in this area, ask away! I'll do my best to give helpful ideas!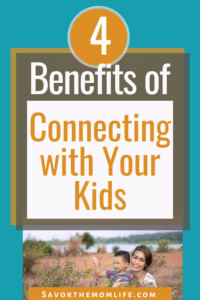 I have been, or can be if you click on a link and make a purchase, compensated via a cash payment, gift, or something else of value for writing this post. Regardless, I only recommend products or services I use personally and believe will be good for my readers. Please read my full disclosure for more information.
Check out some of my other Patenting Ideas from Mom's Parenting Tool Box.
You May Also Like
January 18, 2019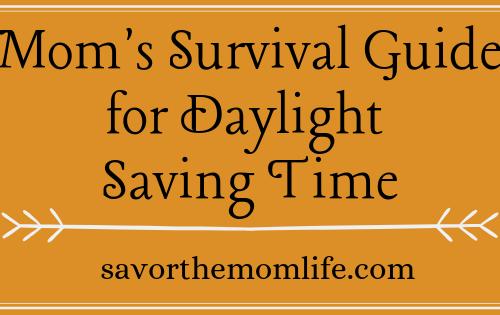 March 5, 2019