Mom's Music Playlist
March 6, 2020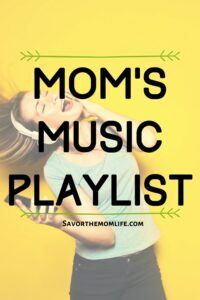 Music can be very powerful. It can help shape, motivate, and clarify our moods. As a Mom's we need to remember to use all the tools available to us while making our way through the rough complicated days of motherhood. Music has the power to help us be better moms! Get a musical mood shift with this post all about the power of Mom's Music Playlist.
I have been, or can be if you click on a link and make a purchase, compensated via a cash payment, gift, or something else of value for writing this post. Regardless, I only recommend products or services I use personally and believe will be good for my readers. Please read my full disclosure for more information.
Remember, each individual has different responses to the same music. So some of my choices might not match what you want to hear. I am just here to help inspire your musical Mom side. You can use themes based on time of day and life milestones to create playlists. Some sounds might even go into multiple playlists!
I love using Amazon Prime Music- You can create your own playlists and even share them with friends! Just download the app and sync your Prime info. Keep reading for some ideas to get you mom playlists started! (Warning I have some dramatic taste- some songs for me might not do it for you. Just get inspired and maybe find some new tunes to enjoy and add to your arsenal!)
Mom's Morning Playlist
Think about the kind of day you want to have and pull your motivation from there! "Get er Done- Motivational, Lazy and Relaxed, Fun, Busy, etc." Pick some songs to fit the mood you are hoping to achieve for the day. I LOVE having music on in the morning. It doesn't happen every morning but I def notice a boost in the mood of myself and my kiddos when we do have a musical morning. We listen while we eat, brush teeth and walk out the door- sometimes all the way to the bus stop.
Morning Tunes
Comfort Me- Tim McGraw
Dream Too Much- Amy Lee
Can't Stop the Feeling- Justin Timberlake
Have it All- Jason Mraz
It's a Beautiful Day- Rob Drabkin
Happy- Pharrell Williams
Me Too- Megan Trainor
Mom's Cleaning Playlist
If you don't have music you can crank up when it's time to disinfect your home are you even human? Whether your cleaning motivation is "Crap- My Mother-in-law is coming," "The Kids have had the flu for a week," or "The bathroom is so nasty I can't use it till I clean it," type of person- we all have our favorite cleaning songs. Here are some of mine for some inspiration. Please send a comment with yours! Some of my Mom friends have shared with me that their cleaning songs are NOT kid-friendly. But hey whatever helps you kill the dirt and germs- am I right?! Check out Mom's Spring Cleaning Post.
Cleaning Tunes
Bitter Sweet Symphony- The Verve
I Said Hey What's Going On- Lara Stevens
Feel It Still- Portugal. The Man
The Wanted- Glad You Came
Whatever You Like- T.I.
Stronger- Kanye West
Honey, I'm Good- Andy Grammer
Mom's "Its Nap Time" In the Car Playlist
When you have a long car ride ahead of you and kiddos would benefit from having rested children when you arrive these are the songs you play on that car ride. At least until they pass out. (You HOPE). My kids have some songs played for them at bedtime as well. Those usually fall into the Naptime tunes list. Here is why good sleep is so important for little kids and moms too!
Naptime Tunes
Blackbird- The Beatles
Lullabye- Billy Joel
Songbird- Fleetwood Mac
A Million Dreams- The Greatest Showman
Godspeed- Dixi Chicks
A Thousand Years- Christina Perri
Mom's Cooking Playlist
Even if you love to cook the monotony of doing it every night can get very old. Especially when we are cooking for little people who either won't eat what we cook or we have to fight them to eat it. The struggle is real! Having some of your favorite tunes to jam out to while you multi-task cooking, homework, and little leg hugging toddlers can sometimes be the tool we need to get us through.
Cooking Tunes
American Pie- Don McLean
Brown Sugar- Rolling Stones
Peaches- The Presidents of the United States of America
Big Cheese- Nirvana
California English- Vampire English
Candy Shop- 50 Cent
Keep Your Head Up- Andy Grammer
Dance with me Tonight- Olly Murs
Mom's "Back to Work After Baby" Playlist
My sister just had her first baby and is headed back to work soon. She has a long commute and you all know to leave that babe takes some getting used to. She is the one who inspired this whole playlist post! I wanted to make her a playlist to keep her mind busy during that ride. Songs you can't help but sing so loud the person in the car next to you is staring.
Back to Work Tunes
GIRL- Maren Morris
Landslide- Fleetwood Mac
Rise Up- Andre Day
Sunflower- Bennett G Authur
This is Me- Keala Settle and The Greatest Showman
Sugar- Maroon 5
Fight Song- Rachel Platten
Mom's "Chauffeur" Playlist
When the kids grow and you find yourself being the one to drive them EVERYWHERE! When they are big enough to choose all the things but can't drive themselves yet. Sports, girl scouts, clubs, after-school activities, and eventually part-time jobs even! What is the go-to car music? I'm sure some of it can be embarrassing to those pre-teen/ teen kiddos. Let's hear some of your favorites in the comments.
"The Chauffeur" Tunes
Barbra Streisand- Duck Sauce
Sorry- Justin Beiber
Drive-By- Train
Life is a Highway- Rascal Flatts
Party Rock Anthem- LMFAO
Send Me on My Way- Rusted Root
Shotgun- George Ezra
Low- Flo Rida
Mom's Night Out Playlist
On a rare occasion, us moms get to go have some time away from the kiddos it's time to let your hair down. These songs could even be used when you just get the car to yourself and you want to listen to something that takes you back- back to before the rugrats! This is when I chose all those songs with explicit lyrics! Check out this post on how to "Catch" some mom friends for "Mom's Night OUt!"
Mom's Night out Tunes
Truth Hurts- Lizzo
S.OB.- Nathaniel Rateliff & The Night Sweats
What Have You Done for Me Lately- Janet Jackson
Bitch- Meridith Brooks
Just a Girl- No Doubt
Born This Way- Lady Gaga
Get Low- Ying Yang Twins
Get Your Freak On- Missy Elliott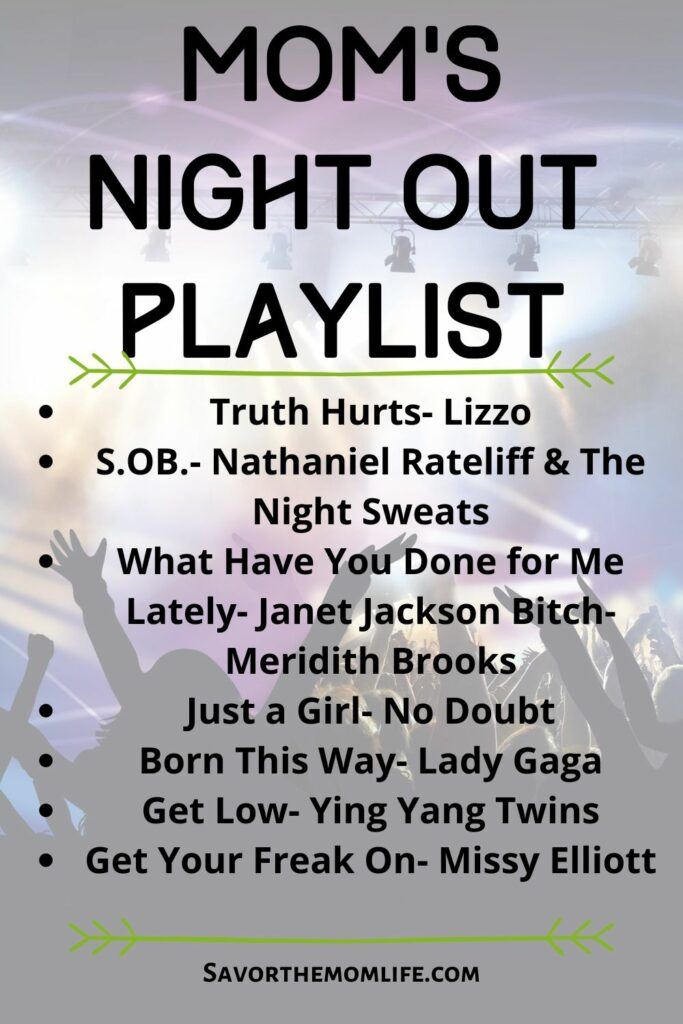 I am sure I have barely scratched the surface of playlist ideas but I just wanted to inspire you, ladies, to use some music! It can be a powerful way to Savor the Mom Life moments we live every day. Please make this a group effort! Leave some comments with your favorite songs and the playlist they would "fit" in for you and your kids.
Also, please don't forget to check out Amazon Prime Music. If you have Prime- you already have access to the basic version. It has playlist building and sharing capabilities. The free with Prime version doesn't have unlimited music though. If you want access to all the songs Amazon has to offer you can get the unlimited subscription with an added monthly fee.
You May Also Like
January 12, 2021
November 24, 2020