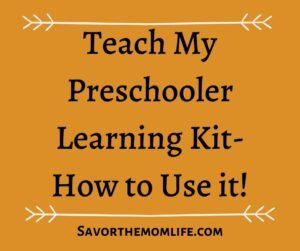 Teach My Preschooler Learning Kit
February 28, 2020

This kit is one of several created by Teach my Toddler Inc. This particular one is specialized for preschool. It can be used for ages 3 and up. It has lots of educational pieces to share with your preschooler. You can help them practice the skills they are learning in school. If you are a parent with no background in education you may find it hard to think of fun ways to use this kit. Even if you read the teaching guide that comes inside you still might need some guidance. This post will show all the pieces of the Teach My Preschooler Learning Kit and some great ideas for using them to educationally engage your preschooler!
I have been, or can be if you click on a link and make a purchase, compensated via a cash payment, gift, or something else of value for writing this post. Regardless, I only recommend products or services I use personally and believe will be good for my readers. Please read my full disclosure for more information.
What Comes with the Teach My Preschoolers Learning Kit?
40 Foam Number's and Counters
13 Books
1 Magic Drawing Board (the magnetic type)
4 Sets of Transparencies (clear plastic cards with numbers, letters, and shapes on them)
1 Set of Word Flash Cards
2 Posters
1 Set of 1-100 Flash Cards (train car style)
4 Storage Bags
1 Reward Tin
Teaching Guide
Carrying Case
Why is the Teach My Preschooler Learning Kit Awesome?
So how do I use this Teach My Preschooler Learning Kit?
Just like in each of my Busy Box posts I am going to break this kit down by those Pre Reading, Pre Writing, and Pre Math skills. Also, remember not to limit yourself to only what is in the kit! Gathering other toys and books that currently pull at your child's interests can make things more fun and engaging. I promise to give you some examples.
Pre Writing Skills
Every child is different! Some preschoolers are writing their name, all letter and number proficiently. Some are just learning about holding a pencil. Pre Writing is all about fine motor skills-using those tiny muscles in the fingers and hands.
Practice picking up and sorting the foam numbers and counters.
Pre Reading Skills
This box can cover a large range of abilities when it comes to Pre Reading Skills. Print Motivation- Just learning what a book is. Print Awareness- Learning the correct way to hold the book and turn the pages. Letter Knowledge- Learning the letters- uppercase and lowercase. Phonemic Awareness- Learning the sounds the letters make and starting to put them together for words.
Looking at the books together. Holding the book correctly, identifying the front cover, the spine, the back cover, the title, the author. Look at the pictures and turn the pages in the correct direction. It's obvious, but do not just expect them to know these things- you have to model or show them how! Check out 9 Ways to Make the Most of Reading with Your Kids.
Search and find! Match the letter transparencies with the corresponding letters in the book. There are uppercase and lowercase sets. You can also sort the letters into uppercase and lowercase.
Match the word cards with the corresponding words in the books. There are even pictures on the other side of the word cards that match exactly with the books for extra help.
More advanced kiddos can match word cards with the same beginning sounds, middle sounds, or ending sounds. Reading the sounds to find rhyming words is also a fun game.
Pre Math Skills
The Pre Math and Math skills that can be covered in this box are great! There are so many different ways to use the tools given. Skills you can cover include but are not limited to Matching, Sorting, Comparing, Counting, Sequencing, Patterns, Identifying and Creating Sets, and Shape Recognition.
You can use the combination of foam numbers, flashcards and posters to match # to # or # to #word.
Sorting the numbers and cards by type is great practice.
Comparing is a great skill that can practice with the magic board. Draw a big shape and a small shape and talk about the difference. Stack the card in different piles and talk about which one has more or less- taller or shorter.
Counting can be practiced with the poster, flashcards, foam numbers or transparency cards.
Sequencing the numbers is another obvious one, Just use the cards or foam numbers and put them in the correct numerical order.
Patterns can be created with the round counters or drawn on the magic board.
Identifying sets of numbers I love to use the foam numbers or cards and grab some cereal, stickers, toys- whatever to create a set that matches to number. Using the given counters in the kit will also work wonderfully.
Check out this post for How to Choose Play-Based Math Activities for Early Learning.
Practicing the names of shapes can be done with the shape transparencies and/or the magic board.
The possibilities are truly only limited by your imagination. So I wanted to show you as many ways to use these tools as possible.
If you have this box already I hope I helped you discover some new ways to use it with your preschoolers.
Here are the other Learning Kits they offer! Teach My Toddler, Teach My Kindergartener, and Teach My Baby.
You May Also Like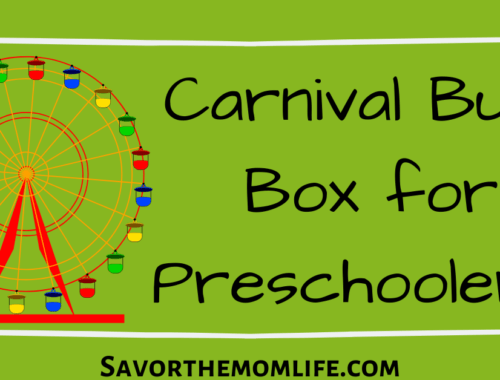 May 29, 2020
September 3, 2020
March 12, 2019