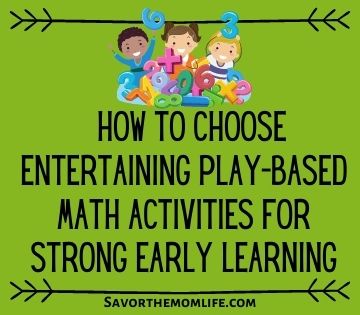 How to Choose Play-Based Math Activities for Early Learners
May 13, 2021
Early Learning happens almost exclusively through play. Kids at the preschool age learn best through hands-on games, activities, and play. It is truly amazing how many things they are learning and building their skills base with as they play and experience the world around them. One of my big goals here at Savor the Mom Life is to help you understand how early learning works and provide you with the tools, products, and ideas to create play-based learning. In every one of my Independent Preschool Learning Busy Boxes, I include Ideas for early math skills play. Keep reading for How to Choose Play-Based Math Activities for Early Learners.
I have been, or can be if you click on a link and make a purchase, compensated via a cash payment, gift, or something else of value for writing this post. Regardless, I only recommend products or services I use personally and believe will be good for my readers. Please read my full disclosure for more information.
Pre Math Skills or Concepts that can be Learned Through Play
Numbers and Counting
Identifying the names and shapes of numbers 1-10 is the base of all math learning. How to say, identify, and then write the numbers are the first focus of many.
Counting always begins with physical objects. Kids need to see and touch things to help them understand.
One-to-one correspondence is the idea that each number represents an object as you count it. The other part of one-to-one is understanding that the last number counted equals the amount present.
Number sense comes when they being to count without relying on physical objects.
Numbers and Counting Games, Activities, and Worksheets
Number and # Set Flashcards
10 Frame
Number Line
Stickers, Stamps, and Manipulative Objects
Number Books
Color By Number Pages
Number Tracing Sheets
Addition and Subtraction
After number sense children can start to look at and compare numbers.
Describing how they are the same or different.
Adding and Subtracting always starts with physical objects as well.
Addition and Subtraction Games, Activities, and Worksheets
Number Set Flashcards
10 Frames
Stickers, Stamps, and Manipulative Objects.
Color by Math Facts
Geometry and Spatial Reasoning
Learning shapes start with 2 D concepts. Square, triangle, circle, rectangle, rhombus, and oval. Identifying and Drawing the shapes.
Next are 3D Shapes like a sphere, cylinder, cube, etc. Identifying, drawing, and manipulating.
Spatial Reasoning is all about comparing shapes and objects. There is a lot of talking and learning vocabulary like big-small, strait- curvy, under, beside, around, etc.
Geometry and Spatial Reasoning Games, Activities, and Worksheets
Shape Flashcards and Tracing Pages
Stickers, Stamps, and Objects for comparing
Sorting and Patterns
Kids learn to sort things before they learn to count usually. They notice how things are the same and different and sort them accordingly.
Weight, Shape, Color, Quality, Texture, etc.
Pattern skills come after sorting. Kids can learn to identify, copy, repeat, create, and correct patterns.
Sorting and Patterns Games, Activities, and Worksheets
Stickers, Stamps, and Manipulative Objects
Pattern Worksheets
Sorting Graphs and Charts
Math Vocabulary
Using words when talking about math.
More, Less, Add, Take Away, Light, Heavy, Small, Big, etc.
Many of these are used organically when playing and experiencing the world about them.
Math Vocabulary Games, Activities, and Worksheets
Math Books
Word Wall Words for Labeling and Conversation
Math Story Creation with Objects, Stamps, or Stickers
Learning Style Specific Preschool Math Skills
Math Discussions
Counting Out Loud
Math Concept Songs
Rhyming
Flashcards to read, put in order, create matches, etc.
Using the 10 Frame to organize a set.
Color Coding and Sorting
Hands-on whenever possible
Many Manipulatives
Calculators and Computers
Movement and Dance to Memorize
Worksheets to trace, copy, and write
Books
These early preschool math skill ideas can be used at home school, in school, in a class center, in an independent play busy box, and even playtime with mom and dad. At Savor the Mom Life I try to make early learning through play, easy and accessible to anyone interested. Encouraging skill-building through play has wonderful effects. A strong base on these core math skills and an enjoyment of learning can happen without even realizing it.
Check out all my themed Busy Boxes!!! There are math activities and games included in each one!
You May Also Like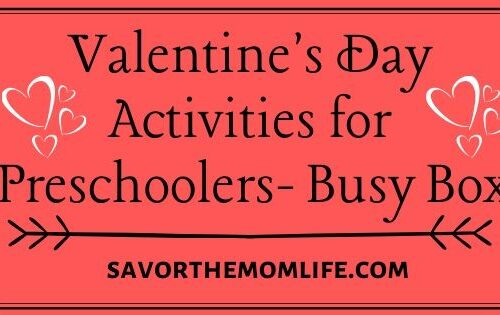 January 10, 2020
March 12, 2019
September 23, 2020