35 Fun Ways to Teach the Alphabet to Little Kids
February 26, 2019
Learning the Alphabet is the biggest stepping stone for reading and writing! When you think of any first school and learning experience, the ABCs always come to mind. Leaning of the letters can start any time!! Especially if you are interested in learning through play. There are many many ways to expose kids to letters. I gathered all my favorites here in this post to help you parents and teachers get the creative juices flowing as you introduced your kids to the Alphabet.
Preschool Education Based Skills, can be broken down by the ages children start working on different aspects of letter learning. Learning Style Quiz for Kids will help you focus on which kinds of activities might work best for your child based on their strengths.
I have been, or can be if you click on a link and make a purchase, compensated via a cash payment, gift, or something else of value for writing this post. Regardless, I only recommend products or services I use personally and believe will be good for my readers. Please read my full disclosure for more information.
3 Stages of Learning Letters
Introducing the letters.
Practice associating the letter with shape and sound.
Recalling the shape and sound of the letters.
You want to make sure your kiddo has mastered 1 and 2 before getting them to recall. They can't tell you what a letter is if you haven't shared it with them first! Remember that every kid is different. Some will learn super fast and others will need more practice. This is why I have compiled so many different ways for you to introduce and practice the letters! Fun Ways to teach the alphabet to kids.
1. FlashCards
Flashcards are the go-to way to learn about, practice, and master the ABCs. They feature the letters, big and small, and some even include a picture that matches the letter sound. I have used them in the classroom, with my own children and to teach online with English Language Learning Kiddos. They may seem basic but are a powerful and very easy tool. It is very easy to create your own with some markers and paper but look below for some of my favorites you can find on Amazon. They even make them with a texture tracing option (sandpaper, glue dots, etc.)
I also have many different sets of Alphabet FlashCards in my Busy Box Download Library or on my Teacher Pay Teacher Store. Flashcards are a learning tool of choice for the Read/Write Learning Style and the Visual Learning Style. Be sure to check out my Youtube Channel for fun Flashcard activities!
2. Song and Rhyme
Kids love it when learning can be fast and fun. Songs and rhymes create patterns for them. We all know as adults how some songs can get stuck in our heads. These are some songs we really want to be stuck in our kid's heads. It will help them remember and notice those letters in other areas of life. Moving to the music and creating movements to associate with each letter also helps with memory. Here is a list of some new and old Alphabet songs and rhymes. Songs and rhymes are the learning tool of choice for the Auditory Learning Style.
The Classic ABC Song.
3. Alphabet Books
We always hear that reading to our children is one of the best ways to help them with school learning. In 9 Ways to Make the Most of Reading with Your Kids, I tell you all about why it's important! There are so many amazing alphabet books that we can read with them to build letter knowledge and recognition. I have to limit myself here because I love children's books, so I will give you my favorites. All are available at your local library I'm sure but I will include some Amazon links for you!
4. Chalk Play
Both sidewalk chalk or chalkboard and easel can be used for letter writing. You can help them move their hand along to create the letters, use books and flashcards for the kids to copy, or even just say the letter and have them reproduce it. Writing with chalk can help greatly with crossing the body's midline. This is a very important skill for gross motor and fine motor development. Drawing pictures with the same beginning sound as a letter is another game you can play with sidewalk chalk. That will help with phonemic awareness of the alphabet. Using chalk is great for Reading/Write Learning Styles and Kinesthetic Learning Style.
5. Sticker Play
Kids love stickers! There are so many cool alphabet stickers out there. This can be a fun way to practice recalling the letter shapes with your kids. I say this because there are so many different kinds of fonts out there. The letter "A" may look different from one set of stickers to another. They have to know the basic shape of the letters to recognize them in funky fonts. Peeling stickers is another check in the fine motor skills collum as well! Interested in learning more about Fine Motor Skills? Read Here! Kinesthetic Learners like the hands-on way to practice their letters.
6. Stamps
You can get letter stamps and have them practice or write the letter out big and have them stamp along the lines to form the letter. Bonus points if your stamps are words with a matching sound to the letter you are practicing. Placing a stamp on a page can be a great way to practice some Fine Motor Skills as well. This is a great idea for visual learners.
7. Play Dough
It helps to have the letters written out big for this one. Get to rolling some play-dough snakes and lay them onto the letter lines to create the letter. Don't forget to practice your kiddo's name with this as well. It makes it even more personal. Check out How to Play with Play Dough on Youtube! This is special for kinesthetic learners.
8. Finger Tracing
Using a finger to trace out letters is the beginning of writing. One of our 5 senses is touch. It can be a great way to help that information stick to the brain. Below I have listed some of the things we can use to practice tracing the letters and getting the kids to use their sense of touch. Again very tactile learning for the kinesthetic learner who wants hands-on!
9. Letter Shapes with Blocks
You can gather regular building blocks or legos and create uppercase or lowercase letters by lining the shape with the blocks. Here is a link to an awesome blog that has the pre-made lego letter patterns made for you!
10. Alphabet Craft
It is really fun to do a letter craft as you introduce each letter. Create a creature or thing that matches the letter shape and sound to help move to the association stage of the learning. Here is a list of ideas- one for each letter.
A- apple
B- butterfly
C- cat
D- Dragon
E- Electric eel
F- frog
G- goldfish
H- headphones
I- icecream
J- juice
K- kite
L- llama
M- mouse
N- night
O- owl
P- pig
Q- quilt
R- rainbow
S- snake
T- tree
U- unicorn
V- vase
W- web
X- x-ray
Y- yo-yo
Z- zoo
11. Name Play
A fun way to get kids started with letters is to teach the ones that appear in their names first. Create their name with flashcards, write it and have them match it with the cards. These are usually some of the very first letters that kids will master. The one at the beginning of their name! Check out this post with a Painted Rock Name Craft! There are different themed printables I have created and videos on how to paint the rocks for more name fun! Check it out on YouTube!
12. Dance and Move
When I taught Kindergarten and first grade one of my favorite things to do was dance around for a brain break with my class. Little did they know the music we were dancing to will still work in their brain. Our favorite was Alphabet Aerobics!
13. Alphabet Snack
Again, write out those letters nice and big. Have the kiddos line up their favorite snack along the lines to create the letter shapes. Bonus if it's a snack that starts with that letter sound. (Math bonus: Count how many it took to create the letter before eating!)
Here are some awesome alphabet cookie cutters from Amazon! You can use them with playdough or cookie dough. They would also work to cut bread, cheese, or lunch meat slices into fun letter shapes.
14. Water Play
Use a water gun, sponge, and paintbrush to practice writing the letters with the kids. You can write it and have them say its name or sound and then give them a turn to write on with the water. You can use squirt guns to wash away the chalk letters outside for an easy way to revisit a previous activity.
15. Creating Letter Shapes with your body.
This one is most useful when you have a class full of kids to use. Get them lined up on the floor to create the letter shapes and take a photo. They will love recognizing the letter and seeing their own shining faces in the photo.
16. Sign Language
This is a super fun way to teach the letter recall practice. Say the letter and have the student practice creating the matching hand movement.
17. Tracing Letter Roads
Create these cute letter roads for your kiddos to trace with their favorite toy cars. Ride the roads and learn the letters at the same time.
18. Alphabet Puzzles
Puzzles can be fun and engaging. There are some great ones out there to help with learning the alphabet!
19. Computer Games and YouTube Videos
We all love to hate screen time but there are some great educational options out there! They can enjoy some screen time and practice their alphabet too!
20. Make your own Alphabet Book
You can use a lot of these great ideas and creations I am talking about here to fill up the pages. Your kid will have a personal connection to the book and love to read all the pages they helped to create. A great way to review the letters during and after learning them!
21. Photo Collage
Cut out photos from magazines or color books to create letter collages for each letter. Be sure to add this to your alphabet books!
22. Typing
Grab out an old keyboard and some flashcards. Get the kids to match the card to the keys on the board. They get to type just like mom, dad, and teacher.
23. Go Fish
Create some fish-shaped flashcards and put some magnets on them. Get a stick and string with another magnet. Get the student to go fishing for letters, naming them as they catch them! Here is the link to full instructions and printable.
24. Feed the Alphabet Dinosaur
Grab a container for your recycling bin or this cool tiny trash can and craft it into a fun dinosaur or monster. Have the kiddos feed the monster the letters. Check out the DIY and How-to video!
25. Search and Find
You show the kiddo a letter flashcard and have them look all around for a matching letter. It could be in a book or just anywhere in the house. We even play this game in the car while driving sometimes. In all my Busy Boxes I include a letter wand! They are great for seeking out letters during this game!
26. Letter Pounding
Grab out a kid-friendly hammer and some golf tees. Have the kids nail the tees into some styrofoam with the letters written on there. I know I would be hesitant to give a little kiddo a hammer but think how fun it would be with some supervision! Here is a link I found on Pinterest on how to create a game like this one.
27. Pipe Cleaner Letters
Get this fun set of rainbow pipe cleaners and get bending with your kiddo to shape letters big and small. Check out this video on how to!
28. Bottle Cap Matching Game
Save up any kind of bottle cap! When you have 26, that will be enough to write one uppercase letter on each cap. Then write the corresponding lowercase letters on some cardboard and have the kiddos match up the letters. Check out my How-To video to make your own set!
29+. Busy Boxy Games
Every Busy Box (What's a Busy Box?) I create has some letter learning games included! There are Letter Wands and Alphabet Flashcard downloads in each box. I also have included fun photos, videos, and explanations of how to use those tools.
Here are some of the Busy Boxes I have Created Below.
You May Also Like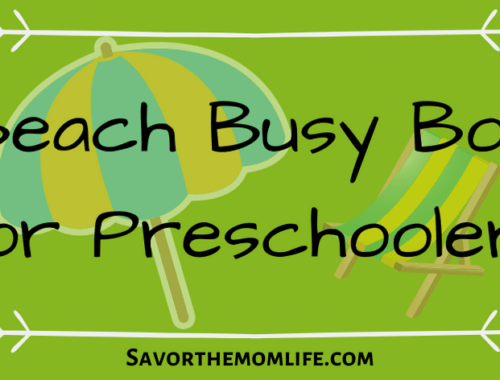 April 15, 2020
March 17, 2020
February 28, 2020